OMAHA, Neb. — A police escort guided them to the CenturyLink Center, where they snapped cellphone pictures of the "University of Virginia" nameplate on the locker room's white cinder block wall, wore two-day-old Nike Hyperenforcer high-tops in cornea-searing orange and aimed tiny video cameras at anything that moved.
Joe Harris tried to swallow the scene Thursday. Everything felt different to the mop-haired sophomore guard, from the team's morning ride through the fog-shrouded city to the sprawling arena to the empty metal lockers. The past was there, too.
"All the stuff," Harris said, "we went through to be here."
When 10th-seeded Virginia plays seventh-seeded Florida in the NCAA tournament's second round Friday, Harris and fellow sophomore Akil Mitchell are expected to start. They're also the remnants of coach Tony Bennett's first recruiting class, six men dubbed the "Six Shooters."
In December, K.T. Harrell and James Johnson left the team. The "Six Shooters" dropped to two. Add injuries and Virginia has seven scholarship players available. Still, Bennett's gang managed 22 regular-season wins, the university's most since 1982-83, and returned to the NCAA tournament for the first time in five years.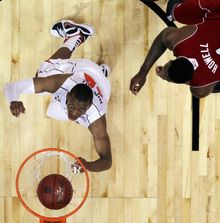 "It's been an emotional roller-coaster," Mitchell said. "But we've stuck together through it all."
A year earlier, Harris and Mitchell had lost their roommates, Billy Baron and Will Regan, to transfers as the recruiting class expected to turn around Virginia's fortunes started crumbling.
"It was kind of shocking," senior Sammy Zeglinski said. "It wasn't expected. It kind of hurt a little bit. Everybody on this team looks at each other as brothers. It was tough to deal with."
Departing wasn't an option for Harris or Mitchell.
From small-town Chelan, Wash., Harris was first recruited by Bennett when the coach was at Washington State. Harris decided to play for Bennett no matter where the coach landed. That meant an unexpected relocation to Charlottesville for the self-described homebody.
Harris, the team's second-leading scorer at 11.5 points per game, joked that even if he was tempted to leave, his parents, Joe and Alice, would never allow it.
The lightest-recruited member of the group, Mitchell, from Charlotte, N.C., fought through homesickness as a freshman. He called his father, Anthony, almost every day. But Mitchell recalled how he was cut from teams in seventh, eighth and ninth grades, not playing organized basketball until he was a high school sophomore. He didn't quit and, this season, started 14 games at forward.
"College is tough for anybody," Harris said of the departures. "You have pressure you weren't used to. At the same time, you're homesick and maybe you're not getting the opportunity [on the court] you should be getting. So you want to try something new."
Harris, a thick pad and black tape protecting the broken bone in his left hand, looked around the locker room at the survivors. Television crews queued up for interviews. He wondered if any of it would sink in by Friday's 2:10 p.m. tipoff.
Back on Sunday, Harris, Mitchell and the rest of the team watched Virginia's name flash on CBS' selection show. Excitement mixed with relief. They had been uncertain if they'd make it.