LITTLETON, Colo. (AP) — Convicted former Illinois Gov. Rod Blagojevich entered a federal prison in Colorado on Thursday to begin a 14-year sentence for corruption, the latest chapter in the downfall of a charismatic politician that seemed more like a bizarre reality TV show than a legal battle.
Followed by helicopters and television news crews broadcasting his every move, the 55-year-old Democrat pulled up in a black SUV at the Federal Correctional Institution Englewood in suburban Denver just before 1 p.m. after stopping for lunch and taking a break to make a cellphone call.
"I think it's kind of surreal to him, but he seems in good spirits," said Brian Pyle, who owns Freddy's Frozen Custard and Steakburgers in Littleton, where Blogojevich had lunch with three other people.
Mr. Pyle said he shook the former governor's hand as he left and told him, "Stay strong." He said Blagojevich thanked him.
In what became a familiar scene in the three years since Blagojevich was taken out of his home in handcuffs by federal agents, the former governor earlier bounded down the stairs of his Chicago home as a throng of cameramen, photographers and reporters crushed around him and well-wishers shouted encouragement.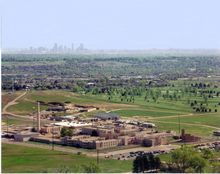 As he has done repeatedly before and after his conviction, Blagojevich sounded an optimistic and even defiant note.
"I'm leaving with a heavy heart, a clear conscience, and I have high, high hopes for the future," said Blagojevich, wearing a dark shirt, sport coat and blue jeans.
Blagojevich was not accompanied by his wife, Patti, who had wiped away tears the night before as he addressed the media. She and the couple's two daughters did not step out of the house, though she could be seen through the windows and one of the two girls peeked out a window from time to time before her father departed.
"Saying goodbye is the hardest thing I've ever had to do," Blagojevich said.
Followed by helicopters and television news crews on the road that brought to mind the low-speed chase of O.J. Simpson, Blagojevich arrived at Chicago's O'Hare International Airport. A mob of travelers took photographs on their cellphones as Blagojevich, his arms raised, stood in a body scanner before heading down the concourse.
He stepped off a plane less than three hours later at Denver International Airport, where local media reported he got into a car waiting for him at the airport gate.
When Blagojevich walked into the prison, he became Illinois' second former governor in federal prison, joining George Ryan, who also was convicted on corruption charges.
Once inside the prison, experts said, Blagojevich must undergo a full-body strip search and hand over his personal belongings, save for his wedding ring. The man with a taste for fine Oxxford-label suits was to be given khaki prison garb and boots.
Now, he is Inmate No. 40892-424.