Second in a series
LONDON, Ontario — Dale and Mark Hunter didn't have long to prepare for the 2000 Ontario Hockey League draft after buying the London Knights that year. So they went to a tournament in Toronto, split up to do some scouting and reconvened to figure out whom to select fourth overall.
"We said we'll say it at the same time," Dale Hunter recalled. "And we both said, 'Rick Nash.' "
That the two brothers were on the same wavelength then in selecting the future NHL superstar shouldn't be a surprise. Even now, Dale said he and Mark think the same. They grew the Knights franchise over the past 10 years thanks to their shared work ethic cultivated growing up on a farm and shared passion for hockey.
As London's "Godfather of Sports" Pete James, a longtime radio and TV personality, put it, they "farm in the summer and they're hockey guys in the winter, and that's exactly what they do. And they do both pretty well."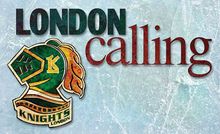 And despite Knights goaltending coach Bill Dark's quip that "Mark is Dale without the hair," the Hunter brothers and co-owners are far from mirror images of each other.
"It's funny, Dale is a little more soft-spoken, but one of the most intense people I've been around. Mark's a little more outgoing, speaks his voice a little more," said New York Islanders All-Star John Tavares, who played for the Hunters in 2009. "They're brothers, but it was different personalities. They got along great and made it a lot of fun for us, but challenged us to be better players and to get better and have a good team and be successful on the ice."
From 2001 until November, Dale served as coach and team president while Mark was general manager and vice president. They have a Memorial Cup and 12 straight playoff appearances to show for it.
"They've done pretty well with it. Yeah, they have. They've built quite a team here," their father, Dick Hunter, said. "They had a good thing going here."
Mark, who has coaching experience from five seasons spent with the Sarnia Sting, also coached the defensemen and skated with the Knights for practices, something that made the regime change easy in November when Dale took over behind the bench for the Washington Capitals.
"Mark and dad had their roles for 10 years and they did it to a 'T.' So it was a little bit of a change that way, coming to the rink and he wasn't there," said Dale's son Dylan, who's in his second season as an assistant coach. "It was a change that way, but it was pretty seamless. … They have the same hockey mind. Exact same hockey mind. They like the same things, dislike the same things, so it was a pretty easy transition."
Dale wouldn't have it any other way. Building London into a perennial contender from scratch is something he takes pride in, and handing the reins to his brother allowed him to let go and pursue the NHL dream that had been swirling as a rumor for years.
"I know my brother's there, and I know it's in good hands. It was easier for me to leave because I knew he was taking over and it would be status quo," Dale said. "I know nothing would change, and nothing has. We're still winning."
Dale signed a contract with the Caps just through the end of this season, so it's uncertain how long his brother will remain as coach. Right now, both men said they're not thinking about it.
But don't think that Dale doesn't check in with his brother, his son and others on staff to make sure of that. He has the OHL package on his computer to watch Knights games when the Caps aren't playing, and he was in close contact with Mark before the trade deadline.