ANNAPOLIS — The House could vote as soon as Friday on a state budget that would increase overall spending by more than $1.5 billion next year.
The chamber was expected to give preliminary approval Thursday to a $35.9 billion spending plan — composed of four bills — that would add revenue in part by raising income taxes on many Marylanders and shifting some teacher-pension costs to counties.
The Senate approved its version of the budget last week, which includes more widespread tax increases than those adopted by the House.
House Democrats say their plan will help pay for roads and public buildings and preserve crucial education, health and safety services at a time when struggling residents need them most.
Republicans — who hold just 43 of the chamber's 141 seats — say the state should make cuts of its own and is only hurting taxpayers who have had to trim their household budgets.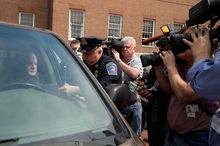 "Spending no more than we bring in is an idea whose time has come," said Delegate Herbert M. McMillan, Anne Arundel Republican. "Other states have done it and it's time for us to do it."
The House spent much of Thursday debating its budget package, which includes bills approved this week by its Appropriations and Ways and Means committees.
The package notably would raise taxes on single residents making more than $100,000 and couples making more than $150,000 and enact a three-year shift that would eventually require counties to take up half the bill for currently state-paid teacher-pension costs.
The House committees adopted modified versions of Senate proposals that would have raised income taxes on virtually all earners and shifted pension costs over a four-year period.
House Democrats rejected numerous Republican-proposed amendments to the budget bills, many of which focused on reducing spending and eliminating tax increases.
Minority Leader Anthony J. O'Donnell, Calvert Republican, unsuccessfully proposed an amendment to keep overall spending at last year's level, while other GOP lawmakers were denied in bids to eliminate the pension shift out of concern for counties and cut funding from state programs.
While Republicans received little agreement from Democrats, they did have about a dozen supporters outside the Statehouse who staged a brief tax protest by circling the building and honking their horns during the House debate.
Police quickly put an end to the protest, directing traffic away from the building and issuing $60 tickets to at least two drivers for illegal use of their horns.
"It just doesn't seem fair that they get to do whatever they want and the rest of us have to abide by the laws of economics," said protester and ticket recipient Carl Garrett of Millersville.
Democrats acknowledged during debate that these are difficult times to raise taxes but insisted that the money will make it back to residents in the forms of improved infrastructure, public education, health care and safety.