BERLIN — If ever a country needed rebranding, it's Kazakhstan.
The Central Asian nation's international identity is shaped — unfairly, but inescapably — by the hit satirical film "Borat: Cultural Learnings of America to Make Benefit Glorious Nation of Kazakhstan," which lampooned Kazakhstan as hopelessly backward, benighted and bigoted.
A fresh reminder of how Sacha Baron Cohen's 2006 mockumentary continues to shadow the nation's image came just days ago, when a medal ceremony at a shooting competition in Kuwait honored the Kazakh gold medalist by mistakenly playing the "Borat" parody of Kazakhstan's national anthem instead of the real one.
Kazakh filmmakers hope to shake off that image — and energize their country's movie industry — with a big budget historical epic, "Myn Bala," which opens next month in theaters in the Central Asian nation.
"'Myn Bala' is one of those projects which is important to give the country its identity," says Anna Katchko, one of the film's producers. "It's also a coming-of-age story about falling in love, first fights, losing friends and gaining them again."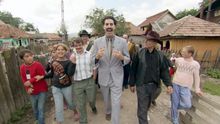 Telling the tale of 18th-century Kazakh warriors overthrowing Mongolian overlords, the movie is funded by Kazakhfilm — the former Soviet-era movie studio that now, as a partially state-owned enterprise, has been rebuilding Kazakhstan's film industry for the past three years.
Kazakhfilm not only provides funding for talented filmmakers in Kazakhstan but also promotes the country as a film location for foreign projects: Chuck Russell, director of 1994's "The Mask" and 2002's "The Scorpion King," is filming "Arabian Nights" — starring Dwayne "The Rock" Johnson and Sir Anthony Hopkins — in Kazakhstan with a reported $70 million budget.
"For many years all over the [former Soviet republics], there was almost nothing happening, few films were made," Ms. Katchko says. "In the past three years, there has been a lot of progress in Kazakhstan particularly.
"Kazakhstan offers amazing locations close to the ancient [former] capital of Almaty, where the production studios are. Forest, steppes, mountains, lakes — wherever you go, there is a different landscape."
'The real Kazakhstan'
German screenwriter/director Veit Helmer's 2011 romantic-adventure comedy "Baikonur" (co-produced by Ms. Katchko) was filmed in Kazakhstan and was inspired by the "cosmodrome," or space launch facility, in the country's desert steppe, which gives the movie its title. The plot revolves around a French "space tourist" who falls from the sky into the life of a young villager and, suffering from memory loss, is led to believe the villager is her husband.
Mr. Helmer conceived the idea for "Baikonur" after visiting Kazakhstan to run workshops for film students at the Zhurgenov Art Academy in Almaty, beginning in 2004. He said that even though many of his students — and even their teachers — had never made a film before, some showed real promise.
"There were some very brilliant students," Mr. Helmer said. "Some of them are now working in Paris, in London, in Moscow, which was a shame because when I went to Kazakhstan to shoot my movie, those I wanted to hire weren't available."
One of his Kazakh students who stayed in the country, Farkhat Shapirov, went on to direct "The Tale of the Pink Rabbit," which follows the fortunes of a child from the country trying to find his place in fast-paced Almaty. It was a major hit in Kazakhstan.
"We tried to show the real Kazakhstan with rich and poor in one film, and I guess it was the first high-quality Kazakh film for young guys with young actors," said actor Anuar Nurpeisov, who played the flim's lead character.