RALEIGH, N.C. — Maryland's dreams of a trip to the women's Final Four came to an extremely rough end Tuesday night at PNC Arena.
Skylar Diggins put on a magnificent show for Notre Dame with game highs of 22 points, 10 rebounds and 11 assists as the Irish shocked the the Terps with an 80-49 rout in the championship game of the Raleigh Regional.
The result put the No. 1 seed Irish (34-3), last season's NCAA runners-up, into an all-Big East semifinal against Connecticut on Sunday night in Denver. This is the first time since 1989 and only the second time ever that all four No. 1 seeds will play in the women's Final Four.
Diggins was named the tournament MVP after putting together the third triple-double in school history and the first in 22 years.
Natalie Achonwa, a 6-foot-3 sophomore forward, came off the bench for 18 points and seven rebounds for the shorter Irish, who got 16 points from Kayla McBride and 14 from Natalie Novosel.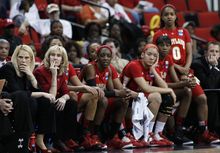 Achonwa, McBride and Novosel joined Diggins on the all-tournament team — which included six players because of a tie vote — along with Maryland's Alyssa Thomas and Texas A&M freshman guard Alexia Standish.
Thomas, who was the ACC player of the year, led No. 2 seed Maryland (31-5) with 17 points, while Tianna Hawkins and Alicia DeVaughn chipped in 10 apiece. The defeat, which ended Maryland's 10-game winning streak, denied the ACC champion Terps' dreams of returning to the Final Four for the first time since their 2006 championship.
"Obviously, tonight was Notre Dame's night," said Maryland coach Brenda Frese, whose team had overcome an 18-point deficit to beat Texas A&M 81-74 in Sunday's semifinals. "I thought they were spectacular. They really did a tremendous job on all ends of the floor. They beat us at our rebounding game and destroyed us on the glass. It was a difficult night for us to get into any kind of rhythm. I thought we looked tired."
Maryland also lost a regional final here in 2009 — 77-60 to Louisville — and no ACC team has been to the Final Four since North Carolina in 2007.
"I thought it was going to be a close game, back-and-forth," said Irish coach Muffet McGraw, who directed the Irish to their only NCAA title in 2001. "I thought at the end, our leadership and experience would give us the edge. I thought we might get 10 points ahead, but I didn't envision this. I'm amazed. Skylar managed the game, and to have a triple-double in a regional final is an amazing accomplishment."
Notre Dame shot 49.2 percent to Maryland's 39.3, won the rebound battle by a whopping 46-27 and committed 17 turnovers to the Terps' 21.
The game was never close after the opening minutes.
"They beat us at our own game tonight," Thomas said. "They crashed the offensive boards hard and we weren't boxing them out. They tightened up on the defensive end, they got steals and capitalized on the offensive end. [Diggins] is a great player. Words can't explain. We didn't have an answer tonight."
The Irish took the lead for good at 10-8 on a pair of Novosel free throws with 14:05 left in the first half. Soon afterwards, they built a double-figure lead, running off 14 straight including nine from Diggins to make it 28-13 on two McBride free throws with 6:20 remaining in the period.
"We came out with a chip on our shoulder," Diggins said. "We wanted to let them know why we're a No. 1 seed. We're a No. 1 seed for a reason, and we came out and dominated."