The hooded sweatshirt — or hoodie — has emerged as an unlikely symbol of political division and racial tension as the controversy over the shooting of an unarmed black teenager in Florida by a neighborhood watch captain last month continues to simmer.
Critics piled on the National Rifle Association on Wednesday after it was revealed that the national gun lobby's online store was offering a $59.95 "concealed carry hoodie," billed as "ideal for carrying your favorite compact to mid-size pistol."
And on Capitol Hill, a black Democratic congressman was ousted from the floor for violating the chamber's dress code after attempting to deliver a statement while wearing a gray hoodie with the hood pulled over his head.
The confrontation that left black high school student Trayvon Martin dead after a clash with neighborhood watch volunteer George Zimmerman, who has a white father and Hispanic mother, in a Sanford, Fla., gated community continues to reverberate in both the political and cultural worlds. Trayvon was unarmed and walking to his father's fiancee's house at the time of the incident.
Florida authorities have brought no charges in the investigation, and the state's broad "stand your ground" self-defense law has itself become part of the debate in the wake of the shooting.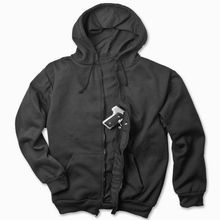 In Washington, Rep. Bobby L. Rush, Illinois Democrat, and a member of the Congressional Black Caucus, contended the hoodie he was wearing symbolized the "racial profiling" that led to Trayvon's death.
"I applaud the young people all across the land who are making a statement about hoodies, about the real hoodlums in this nation, specifically those who tread on our law wearing official or quasi-official cloaks," said Mr. Rush, as Rep. Gregg Harper of Mississippi, who was presiding over the floor as speaker, gaveled him out of order.
"Racial profiling has got to stop," Mr. Rush said. "Just because someone wears a hoodie does not make them a hoodlum."
After Mr. Rush finished and was escorted out, Mr. Harper said House rules ban the wearing of hats while the chamber is in session, noting that includes hoods.
Elsewhere, a New Orleans police officer resigned Wednesday after he posted a sharp comment on a local TV station website that had reported on a rally supporting Trayvon.
"Act like a thug, die like one!" Jason Giroir wrote.
Trayvon's supporters also have been forced to backtrack at times in the debate.
An address retweeted by film director Spike Lee, purportedly of shooter George Zimmerman's Sanford house, sent the real owners of the home, an elderly couple, fleeing in fear that agitated followers might attempt to extract their own local justice.
Protests over the police's handling of the case have been countered by new leaked information painting a more complex portrait of the victim, the shooter and the events of Feb. 26.
The Orlando Sentinel reported that a Sanford police investigator wanted to charge Mr. Zimmerman with manslaughter initially, but the state attorney's office there declined to move ahead. Sources told the paper that Mr. Zimmerman, 28, said he acted in self-defense after Trayvon attacked him as he walked back to his SUV.