House Republicans powered their 2013 budget through their chamber Thursday, marking the high point for the $3.5 trillion spending plan, which would have created a deficit of nearly $800 billion next year.
That's still better than almost every other choice on the table: President Obama's budget would result in a $1 trillion deficit next year, as would House Democrats' plan. Even the bipartisan Bowles-Simpson framework and the conservatives' alternative would spill red ink next year and throughout the next five years.
Senate Democrats, meanwhile, have said they won't put a budget plan on the floor at all — marking the third straight year Congress will go without a full blueprint for taxes and spending.
In short, analysts and lawmakers say, the process is getting worse every year.
"It's profoundly different," said Steve Bell, senior director of economic policy at the Bipartisan Policy Center, who as former longtime staff director for the Senate Budget Committee helped then-Chairman Pete V. Domenici craft budget after budget in past decades. "We actually passed budgets, and we actually went to conference, and we had reconciliation. What's happened now — it's kind of sad to see, really."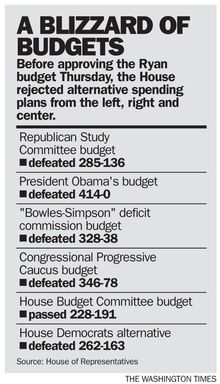 Without a Senate plan, Congress will have no budget this year. That means no framework to shepherd through changes to entitlements, and no access to the special budget rules that allow those changes to pass with just a majority, rather than the usual 60 votes in the Senate.
"What it says is that people aren't being real serious getting something implemented. They're more interested in staking out either Republican or Democrat positions on it, or Progressive Caucus," said Rep. Steven C. LaTourette, an Ohio Republican who co-sponsored the Bowles-Simpson alternative. "They're more interested in message than policy."
The House GOP plan passed by a 228-191 vote, with 10 Republicans joining all 181 Democrats in opposition. No Democrats voted for it.
It boosts defense spending by erasing the automatic cuts that went into effect after the failure of last year's supercommittee; cuts from the rest of discretionary spending, which funds education, the environment and other basic domestic needs; and alters Medicare by making it compete with private plans that seniors could then choose from, with a cap on government spending.
"Here in this chamber we are witnessing the growing momentum of a new approach — one that maintains a critical role for government but ultimately puts the American people in charge, where they belong," said Budget Committee Chairman Paul Ryan, the Wisconsin Republican who wrote the plan.
Democrats, though, said they will make Republicans pay a political price for voting to change Medicare.
"It is all about choices," said Rep. Chris Van Hollen of Maryland, the ranking Democrat on the Budget Committee. "Let's not make the mistake of passing this Republican budget plan. We can do better. We can do what bipartisan groups have done — take a balanced approach. Cut spending, also cut the loopholes for special interests."
Even though it lost 10 Republicans, the GOP plan did better than House Democrats' alternative, which failed and saw 22 Democrats defect from their party.
Most striking, though, was the failure of the Bowles-Simpson amendment, which was designed to follow the plan drafted by former White House Chief of Staff Erskine Bowles, a Democrat, and former Sen. Alan Simpson, a Republican, who led a high-profile deficit commission in 2010.
Their proposal called for combining spending limits, including on entitlement programs, with higher tax revenues — the kind of balanced plan many Democrats have said they want. For much of the past year, it was seen as the chief hope for a bipartisan solution.