ANNAPOLIS — State Senate Majority Leader Robert J. Garagiola is in the fight of his political life as he seeks the state's 6th District congressional seat, but he received an endorsement Thursday that he hopes will put him over the top in advance of Tuesday's Democratic primary.
Gov. Martin O'Malley threw his support behind Mr. Garagiola on Thursday, telling supporters that the 39-year-old senator is the best Democrat to challenge likely Republican nominee and incumbent Rep. Roscoe G. Bartlett in November's general election.
"He has already been an extremely effective state senator," said Mr. O'Malley, a Democrat. "He is a person that his colleagues trust and that they turn to for leadership time and time again."
Mr. Garagiola was considered a virtual lock for the Democratic nomination last fall, when the General Assembly approved a new congressional map that critics argued was tailor-made for him to challenge the 85-year-old Mr. Bartlett, who has been in office since 1993.
But the third-term state senator is locked in a primary battle with Democrat John K. Delaney, a businessman and political outsider who has outspent Mr. Garagiola on the campaign trail and mounted a fierce campaign.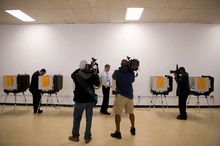 Mr. Delaney, 48, has touted his business record and painted Mr. Garagiola as beholden to lobbyists while criticizing the senator for his failure to disclose in state ethics forms his years of work as a lobbyist in the District.
Mr. Garagiola has in turn accused Mr. Delaney of lacking political experience, failing to disclose his financial dealings and for once contributing to the campaign of Rep. Andy Harris, Maryland Republican.
"People know where I am on the issues," Mr. Garagiola said. "With my record against anyone, I'm a natural choice for people."
Despite Mr. Garagiola's heavy backing from state officials, Mr. Delaney earned the endorsement of The Washington Post and such figures as former President Bill Clinton and Rep. Donna F. Edwards, Maryland Democrat. The rest of the state's Democratic congressional delegation has supported Mr. Garagiola.
Mr. Garagiola said his campaign research has shown he has a 3-to-1 lead over Mr. Delaney, but the Delaney campaign released its own poll Thursday saying that he has more than a 20-point lead on Mr. Garagiola.
The poll, performed by the Garin-Hart-Yang Research Group, surveyed about 400 Democratic voters.
"Voters have a clear choice in this election and they are supporting John Delaney, the job creator," Delaney campaign manager Justin Schall said in a statement.