With the president's re-election fundraising drive thus far coming up short of his record-breaking 2008 pace, Team Obama — with the president and first lady Michelle Obama in the lead — is pushing hard to pump up the money figures ahead of Saturday's financial-reporting deadline.
By some measures, Mr. Obama's re-election drive, which at one point was projected as perhaps the first $1 billion campaign in U.S. history, has collected tens of millions of dollars less than President Bush's campaign had at the same point in 2004, according to Federal Election Commission (FEC) figures.
Democrats say the numbers are not exact apples-to-apples comparisons, with total numbers complicated by the rise of independent super PACs and funds raised for the party organizations.
But the less-than-imposing numbers have prompted a flurry of fundraising emails to supporters to donate ahead of the March 31 first-quarter deadline, including separate appeals from Mr. Obama and first lady Michelle Obama just in the days since the president returned from an international summit in South Korea on Wednesday.
Mrs. Obama's pitch, titled "Up Late," extolled her husband's work ethic and said she needs supporters "to have his back" this week and donate.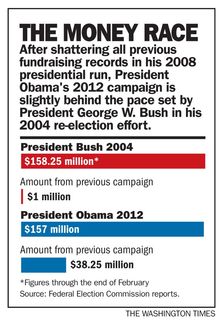 Through the end of February, the campaign had raised a total of $118.79 million, for a total of $157 million when combined with the $38.25 million left over from the 2008 race.
At the comparable point in 2004, Mr. Bush had raised $158.25 million for his re-election effort, with barely more than $1 million of that coming from his previous campaign, according to the FEC.
At times, Mr. Obama's top aides have openly fretted about the level of resistance they are encountering from some Democratic donors, especially in the face of the challenge posed by the pro-GOP super PACs. The president's fundraising team has tried to highlight in stark terms what it sees as the consequences of Republican presidential front-runner Mitt Romney winning the White House.
"We cannot underestimate someone like Romney, who has shown he will spend and say anything to win," campaign manager Jim Messina warned in an email to supporters last week. The pitch included a poll showing Mr. Obama losing to Mr. Romney if the election were held now.
Earlier this month, Mr. Messina took a swipe at Mr. Obama's supporters in an email blast at 3 a.m.
"Too many Obama supporters are falling into a trap," he wrote. "They're waiting to donate until we have a clear opponent. There's too much at stake, and not enough time, to be doing that."
The expectations game
While pushing for more donations, Mr. Obama's aides are pushing back at suggestions that the campaign is strapped for cash or falling well short of expectations.
Democratic officials argue that comparing the figures for Mr. Bush eight years ago and Mr. Obama today isn't fair because the president has been furiously raising money for the Democratic National Committee this year and last as well.
So far this cycle, the DNC has raised $157.68 million and has $37.17 million in cash on hand and $5.9 million in outstanding debts, while the Republican National Committee has collected $127.66 million and has $42 million in cash on hand and $10.9 million in debts, according to the Center for Responsive Politics.