VIERA, Fla. — In the back of Roger Bernadina's locker is a crumpled blue bag holding two baseball cards.
Bernadina can't escape the carefree face that grins at him from the cards.
"In Memoriam," the cards read. "Gregory A. Halman."
While Bernadina fights for an outfield job with the Washington Nationals this spring, the memory of his murdered friend is never far away. Last November, Halman, a 24-year-old outfielder with the Seattle Mariners, was stabbed to death in Rotterdam, Netherlands.
Halman's number is still in Bernadina's iPhone. They remain Facebook friends. Bernadina talks about Halman as though he's still alive. The baseball cards distributed at Halman's funeral keep him close.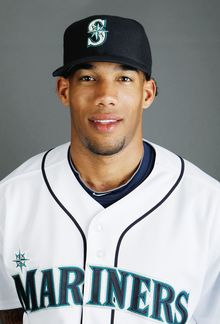 "It's still a shock," Bernadina said in a quiet voice. "I still can't realize it actually happened."
The two worked out together in the Netherlands. They talked almost every day. They played on the Dutch National Team in 2007. That was the first time Bernadina noticed Halman's raw ability: power, arm, and speed.
"I saw him on the field hitting the ball," Bernadina said. "Oh, my god. That guy was unbelievable."
In November, Halman and Bernadina joined a group of major leaguers touring Europe. A week after they parted, Bernadina's phone buzzed with calls and text messages. Halman was dead. It's not true, Bernadina insisted. But the messages kept coming. Bernadina refused to believe them.
The messages told a horrific story. Halman's brother, Jason, played music loudly that night to stifle voices in his head, according to the Seattle Times. The brothers aruged about the music. And then, the paper said, Jason Halman stabbed his brother in the throat and severed his cartoid artery.
"His brother was his best friend," Jason Halman's lawyer, Frits Huizinga, told the Haarlems Dagblad, a Dutch newspaper, last week.
Jason Halman was arrested and charged with the killing. The brothers seemed inseparable to Bernadina. When Bernadina hung out with Greg Halman, Jason Halman came along.
Friends tell Bernadina that Jason Halman "lost it." Bernadina wonders what really happened, then repeated "it's sad." There isn't much else to say.
Baseball felt distant, from the omelets, hash browns and pancakes sizzling in the clubhouse's makeshift kitchen at Space Coast Stadium to the 27-year-old Bernadina's odds of making the club. He's been with the organization since 2001, its longest-tenured member, and is out of minor league options. Bernadina's above-average speed, defensive ability and occasional pop haven't coalesced into consistent production.
"He looks a lot more comfortable [at the plate]," manager Davey Johnson said. "He's another one who hasn't reached his potential. … That's why this spring is a big spring."