As gasoline prices continue to rise and keep the heat on President Obama's energy policies, critics also are accusing the president of shifting support away from the coal industry, a major source of fuel and jobs in several battleground states, including Colorado, Michigan and Ohio.
Lawmakers on both sides of the partisan aisle say Obama administration environmental regulations aimed at cutting greenhouse gas emissionsare poised to hit jobs and consumers harder than the Keystone XL decision at the same time the president seems to have abandoned his stated support for the coal industry and clean-coal technology.
House Speaker John A. Boehner, Ohio Republican, wrote a letter to Mr. Obama last week taking issue with the Environmental Protection Agency's greenhouse gas rule-making, naming an anti-mercury rule among several regulations that he said would cost a combined 180,000 jobs.
"You have rightly noted that oil production alone cannot solve our energy challenges," Mr. Boehner said. "That's why we've also been disturbed by regulations proposed by your administration, such as the Utility-MACT rule, that would increase costs and limit the supply of other domestic sources of energy.
"These rules, the most expensive in EPA history, stand to cost 180,000 American jobs per year and would force the premature retirement of 12 percent of America's coal-fired energy generation," he said.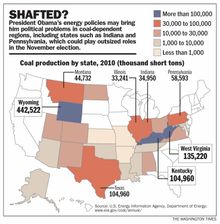 Mr. Boehner's comments were based on a report sponsored by the American Coalition for Clean Coal Electricity and released in September.
In late February, a bipartisan group of 219 members of Congress led by Reps. Ed Whitfield, Kentucky Republican, and John Barrow, Georgia Democrat, sent a letter to the Office of Management and Budget calling for a stop to the EPA's greenhouse gas rule-making.
"Affordable, reliable electricity is critical to keeping and growing jobs in the United States, and such a standard will likely drive up energy prices and threaten domestic jobs," they wrote. "Forcing a transition to commercially unproven technologies could send thousands of jobs overseas and raise electricity rates on families and seniors at a time when the nation can least afford it."
The regulations
In August, the EPA issued a rule aimed at reducing power-plant emissions that cross state lines. It was supposed to take effect at the beginning of this year, but the D.C. Circuit Court in late December stayed the rule while it hears challenges.
The rule attempts to reduce ozone and fine-particle pollution and assign state-by-state emissions caps to prevent the interstate transport of pollution and help downwind states meet national air quality standards. It would require power plants in 28 states to reduce nitrogen oxide and sulfur dioxide emissions — both products of coal burning — that cross state lines.
Industry, labor groups and some states are fighting the rule, arguing that it should have been implemented through state law rather than federal regulations and is more stringent than necessary to maintain air quality standards.
A separate set of regulations to cut mercury pollution — another product of coal burning — is scheduled to go into effect in 2015.
GenOn Energy Inc., the third-largest U.S. independent power producer by market value, last week said it expects to shut about 13 percent of its generating capacity by May 2015, including facilities in Pennsylvania, Ohio and New Jersey, because of environmental regulations.
Over the past few years, energy companies have closed or made plans to retire more than 30,000 megawatts of coal-fired generation because of the tougher regulations, as well as a surge in a natural-gas-fired generators as a cheaper alternative.