MOSCOW — Russian riot police arrested hundreds of protesters Monday, including prominent opposition leaders, who claimed Prime Minister Vladimir Putin stole Sunday's presidential election.
Demonstrators shouted, "Russia without Putin," as police moved into a crowd that refused to leave Pushkin Square in downtown Moscow, a short distance from the Kremlin and the seat of power in Russia.
Moscow authorities had approved the demonstration and dispatched about 12,000 police officers to keep order. When the official time for the rally ended, police ordered the demonstrators to disperse.
"I'm not leaving until our demands are met," said Gleb Gladki, an activist from the liberal Yabloko party. "I'm not afraid. What should I be afraid of?"
"You are violating the laws of the Russian Federation," Ilya Ponomaryov, anopposition member of parliament, shouted at police. "Stop now."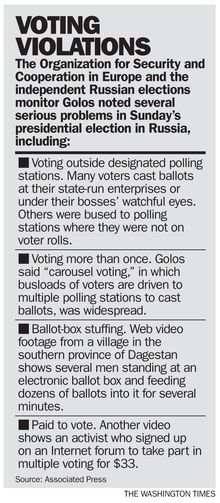 Police linked arms and swept through the crowd, pushing protesters out of the square and detaining those who resisted. A number of people fell to the ground, as police forced their way toward fountains where protest leaders were standing.
Among those detained were blogger and opposition leader Alexei Navalny and Left Front Party leader Sergei Udaltsov.
"Hi, everyone, from the police truck," Mr. Navalny wrote in his Twitter microblog after his arrest.
Mr. Ponomaryov told reporters after the protest that an estimated 1,000 people were arrested, including dozens who tried to block a main street leading to Red Square.
Police estimated the crowd at 14,000, but organizers said the rally drew more than 20,000.
The demonstrations erupted a day after Mr. Putin claimed victory in an election that international monitors said was marred by irregularities. Official returns showed that Mr. Putin gained about 64 percent of the vote to win a third term as president.
He was elected to two four-year terms from 2000 to 2008 and stepped down to serve as prime minister because the constitution prohibited him from seeking a third consecutive term. His new term is for six years because of a change in the election laws.
He nearest rival in the election, Communist Party chief Gennady Zyuganov, won almost 18 percent.
Tonino Picula, the head of the observer mission from the Organization for Security and Cooperation in Europe, said the result of the election was never in doubt and that voters had no genuine choice.
"The point of elections is that the outcome should be uncertain. This was not the case in Russia," he said.