The State Department on Monday was processing a disaster declaration for the Republic of Congo to allow U.S. emergency aid for the Central African nation, where more than 200 people were killed when a weapons depot exploded Sunday.
"We are working with the government of the Republic of Congo and the international community to determine what additional assistance we can provide," said Secretary of State Hillary Hillary Rodham Clinton.
A series of explosions early Sunday brought horror to the 1.5 million residents of Brazzaville, the Republic of Congo's largest city.
With rescue workers combing through wreckage on Monday, State Department officials cautioned that the death toll could climb as high as 500 people, with potentially thousands more injured.
Authorities believe the explosions were triggered by a fire started by short-circuited wires at a weapons depot in Brazzaville.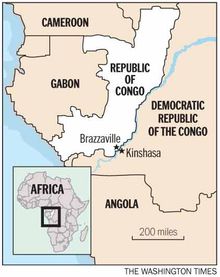 International experts scrambled Monday to prevent a fire from reaching a building housing a second depot nearby, according to the Associated Press.
Mrs. Clinton said she was "deeply saddened to learn of the loss of life and damage" caused by the explosions and that "our thoughts and prayers are with the Congolese people during this difficult time."