Athletes having success later in their careers in a new city isn't unheard of. Shaquille O'Neal won an NBA title with the Miami Heat, 13 years after making his debut with the Orlando Magic. Roy Halladay won the Cy Young Award with the Philadelphia Phillies in 2010 after winning it with the Toronto Blue Jays in 2003. When it comes to the nation's capital, the stories usually work the other way. The list could go on and on. Here's an all-star cast of one faded star from each of the major sports. If Peyton Manning comes to D.C., which list will he make?
MICHAEL JORDAN
Any discussion of the best basketball players ever surely will include Jordan. It won't be based on his two seasons with the Wizards. Jordan averaged 30 or more points for seven straight seasons with the Bulls. In his last three seasons there, he didn't average below 28.7. He averaged 22.9 and 20.0 points his two seasons in D.C. The Bulls won six titles with Jordan in the lineup. The Wizards went 37-45 each season and didn't make the playoffs. It's not all on him as Jordan clearly didn't have the same supporting cast. But it is clear the Jordan of his late 30s wasn't nearly the same as the Jordan of his late 20s and early 30s.
DEION SANDERS
"Neon" Deion was a well-regarded cornerback and kick returner with the Atlanta Falcons, San Francisco 49ers and Dallas Cowboys through the 1990s. From 1991 through '99, Sanders made someone's all-conference or All-NFL team every year. He was on multiple such lists many times. He was All-Pro six times and he played in eight Pro Bowls. In 1994, the Associated Press named him the NFL Defensive Player of the Year. Though he did have four interceptions, his one year in D.C. in 2000 didn't measure up. The team finished 8-8. Sanders had the lowest punt return average of his career for any season in which he returned at least 20 kicks. He made no one's all-star list in 2000. Sanders returned to the game with the Baltimore Ravens later in the decade, intercepting five passes in 25 games over two seasons.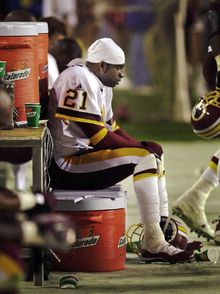 JAROMIR JAGR
From the 1995-96 season through the 2000-01 season with Pittsburgh, Jagr scored more than 100 points in four seasons and had 95 and 96 the other two. He had 79 and 77 points his two full seasons in D.C. Not bad. The Capitals of today would take someone with those totals. But it wasn't what was expected when the team sent three players and future considerations to the Penguins for Jagr. He was traded to the Rangers, where he fetched Anson Carter in return. In New York, Jagr had 96- and 123-point seasons. Just past his 40th birthday, he's playing for the Philadelphia Flyers.
DENNY McLAIN
McLain won 55 games for the Detroit Tigers in 1968 and 1969, with 31 coming in 1968. He had ERAs of 1.96 and 2.80 those two seasons. After the 1970 season, Washington sent four standouts (pitchers Joe Coleman and Jim Hannan, shortstop Ed Brinkman and third baseman Aurelio Rodriguez) to Detroit for McLain and three others (bonus points if you can name two of them). The return? McLain went 10-22 with a 4.28 ERA his only season with the team. By then relocated to Texas, the team shipped him to Oakland after the season. Who came here with McLain? Don Wert, Norm McRae and Elliott Maddox.