ATLANTA — The end of Maryland's basketball season likely arrived Friday afternoon. Appropriately, it had all the hallmarks of the Terrapins' season.
Terrell Stoglin scored. Maryland was often feisty yet undermanned. Stoglin scored some more. The Terps' frontcourt was overwhelmed. Turgeon found himself vexed with his team's inconsistency but proud of its effort.
And, yes, Maryland stumbled out of the ACC tournament quarterfinals with an 85-69 loss to top-seeded North Carolina at Philips Arena.
The loss leaves the Terps at 17-15, probably not enough to warrant a bid to the 32-team NIT. A trip to the College Basketball Invitational (a third-tier postseason event) isn't likely simply because of the financial costs of securing home games for Maryland's cash-strapped athletic department.
So if this was it for the Terps, it doubled as a look at what they would like to be.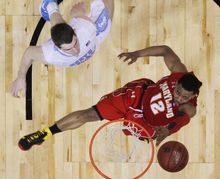 North Carolina (28-4) lost ACC defensive player of the year John Henson to a wrist injury early in the first half. The Tar Heels simply got 14 points and eight rebounds from reserve James Michael McAdoo.
"Seeing how good Carolina is and making the game look easy, that's definitely something we want to do next year," freshman guard Nick Faust said.
Nothing came easy this season for Maryland, who were fueled for four months by Stoglin's potency as a scorer. He dropped 30 points on the Tar Heels, a day after a 25-point effort in throttling of Wake Forest.
Whether Stoglin is back is uncertain. He said Friday he started weighing whether to turn pro at midseason and plans to consider his options in the coming weeks.
"Right now, I'm thinking about coming back, but it's too early to make a decision," Stoglin said. "I'm going to wait until March Madness and everything is done and go back home and talk to my family and coach Turgeon and make a decision."
The choices in front of him on the court generally consisted of taking a shot himself or passing elsewhere on the perimeter. There was little help from the frontcourt, where Ashton Pankey produced seven points in the second half but Maryland's other three scholarship big men were held scoreless.
It was a rough game from the start for Alex Len and James Padgett, who struggled to get back on defense and allowed easy baskets to the talented Tar Heels. Maryland never led and trailed by double digits just a little more than five minutes in.
"Their length gives us problems," Turgeon said. "I was disappointed we couldn't score on McAdoo. I thought we could score on him. He's not 7 foot. Our guys were just out of it. The post guys were just out of it. Pankey's the only one that played. Alex did not play very well. James was out of it all day. [We] couldn't get those two to run back on defense. It was a key to the game."
Eventually, the Terps made things interesting at a few junctures. Maryland pulled within 22-19, only to surrender the next seven points. In the second half, the Terps brushed off an 18-point deficit to close the gap to 54-47 and had the ball to make things tighter before Carolina forced a turnover and went on a 9-0 run.
"Well, they're pretty good," Turgeon said. "That's what happened."