Global demand for American natural gas and coal is booming, but recent clashes on both U.S. coasts underscore that getting American supplies to eager foreign buyers will be anything but easy.
Last week, the Sierra Club announced that it would use a unique 1970s environmental agreement to halt the construction of a natural gas liquefaction and export plant at Cove Point in Maryland. Energy giant Dominion, which hopes to build the first such plant on the East Coast, plans to move forward and could end up fighting environmentalists in court.
The coal industry also has proposed massive export facilities in the Pacific Northwest, where millions of tons of American coal would be prepped for shipment to burgeoning markets in Asia.
But those projects have generated an intense backlash from environmentalists and their political allies, most notably Oregon Gov. John A. Kitzhaber, a Democrat who last week urged the federal government to quash the proposals in his state and in neighboring Washington.
His rationale, outlined in a letter to the Defense Department, the Interior Department and the Army Corps of Engineers, highlights an argument against the development and export of fossil fuels.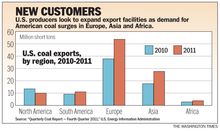 The U.S., he said, should take global responsibility for carbon emissions, and any study of environmental effects should examine the worldwide ramifications of using coal and natural gas.
"Developing, transporting and using [coal] for energy production in Asia will have significant implications for the trajectory of the world's transition to cleaner sources of energy," Mr. Kitzhaber said.
"It is imperative that the federal government take seriously its responsibility to make informed decisions, and that there be a comprehensive look at the energy, environmental and public health impacts of these proposals before the nation commits itself to this path," he said.
Foreign markets, led by China, could soon become the most appealing options for American energy companies dealing in coal. Environmental Protection Agency regulations, chief among them an effective ban on new coal-fired power plants, are squeezing the U.S. market and strangling the fuel that powered the Industrial Revolution.
"You can see it dwindling away," said Rep. Shelley Moore Capito, West Virginia Republican and co-chairwoman of the House of Representatives' Coal Caucus. "The regulations are made without regard. [Federal officials] don't even ask what kind of impact they'll have. The EPA has already put in place … rules and other impossible standards that are causing a giant shift of our natural resources to China."
St. Louis-based Arch Coal Inc., for example, said Tuesday that "severe weakness" in the U.S. market for coal-generated electricity has had a dramatic effect on its bottom line. The company's net income in the first quarter of 2012 totaled $1.2 million, compared with $55.6 million in the first quarter of 2011, the Associated Press reported.
FirstEnergy Corp. announced this year that it would close six of its coal-fired power plants in Ohio, Pennsylvania and Maryland. Similar plants across the nation, analysts say, likely will close in the next few years if EPA and other federal regulations are allowed to stand.
The downturn was compounded by an unusually warm winter, which slashed the use of coal for home heating. Overall domestic coal use fell by 18.8 percent in the final quarter of 2011, hitting its lowest level in more than 15 years, according to a recent report from the federal Energy Information Administration.
While the U.S. coal market is in danger of drying up, nations such as China and India are using more than ever before, and they are looking to American companies to supply it.
Total U.S. coal exports shot up by 32.6 percent in the fourth quarter of 2011 compared with a year earlier, the Energy Information Administration said. Exports have increased steadily over the past several years. In 2009, the nation sent 59 million tons overseas. That number shot up to 82 million tons in 2010 and 107 million tons last year, according to the American Coal Council.