Pentagon policies bar Staff Sgt. Marie Martinson from direct ground combat, but she nonetheless has taken on the No. 1 killer of troops in Afghanistan: improvised explosive devices, or IEDs.
What's more, disabling and dismantling roadside bombs is a job she loves.
"Defeating enemy IEDs? There's a rush you can't get any other way," says Sgt. Martinson, 29.
She is one of about 50 women who serve in the Air Force's 1,050 explosive-ordnance disposal technician positions - jobs that have taken female troops close to the front lines for years.
On Monday, the Pentagon opened for female troops about 14,000 support positions that previously had been withheld from them, allowing women to fill jobs below the brigade level.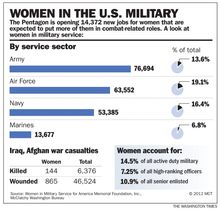 Though still banned from ground combat roles, women have more opportunities to serve in units closer to battlefields.
A veteran of 4 1/2 years, Sgt. Martinson is one of two female bomb techs in the 88th Air Base Wing Explosive Ordnance Disposal unit at Wright-Patterson Air Force Base in Ohio, and has been deployed twice to Afghanistan.
Roadside bombs "are their No. 1 weapon against us," Sgt. Martinson says of Taliban fighters and insurgents. "To be the one that's able to go and defeat that and be able to take them out - it's very rewarding."
'There are no front lines'
The Air Force has long allowed women to be assigned to about 99 percent of its positions, so most of the new jobs for women have opened in the Marine Corps, the Navy and the Army.
The Marines opened 371 positions to women, and will allow female volunteers to participate in an officer infantry course as part of a research project this summer.
The Navy opened 60 positions, and the Army 13,139.
Women account for about 14.5 percent of the 1.4 million active-duty force.
Two years ago, Congress ordered a review of the Pentagon's policies on women in combat, spurred by reports of heroism by female troops in Afghanistan and Iraq [-] wars that often featured no clearly defined front lines.
Of the 6,376 U.S. military personnel who have died in the Iraq and Afghanistan wars, 144 have been women.