Michael Jackson's glittery gloves, spangled jackets, stage-worn costumes and personal fashion effects are going on a world tour.
Celebrity auctioneer Darren Julien said clothing created by Jackson's longtime costume designers will be exhibited in South America, Europe and Asia before being sold to the highest bidder in December.
The exhibit opens Friday at the Museo de la Moda in Santiago, Chile. It features items such as Jackson's Captain EO shirt, the black spandex outfit from his "Scream" video and the breakaway suit he wore during his Bad tour in the late 1980s.
The items will be sold by Julien's Auction on Dec. 2, with a portion of the proceeds benefiting Guide Dogs of America and Nathan Adelson Hospice in Las Vegas.
Christopher Plummer's 'Tempest' hitting movie theaters in June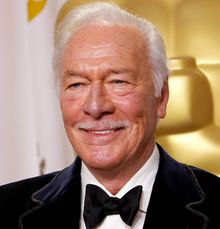 It will be hard to miss Christopher Plummer this year.
The Academy Award winner's stage performance in "The Tempest" will be shown in hundreds of movie theaters on June 14, even as plans are in the works to have his "Barrymore" join it at the multiplex.
"The Tempest," with Mr. Plummer as Prospero and direction by Des McAnuff, was prerecorded live over two days in the summer of 2010 at the Stratford Shakespeare Festival.
His "Barrymore" — a two-person play exploring the life of actor John Barrymore — will be shown at cinemas in Canada beginning in May and throughout the United States, Europe, Australia, New Zealand, South Africa and other countries in October. It was filmed at the Elgin Theatre in Toronto.
Chris Hemsworth celebrates movie premiere, daughter's birth
Actor Chris Hemsworth has two things to celebrate.
He was to be at the world premiere in London Monday night of his new movie, "Snow White and the Huntsman," with co-stars Charlize Theron and Kristen Stewart.
And it was his first red-carpet event since becoming a dad.
Mr. Hemsworth's partner, Elsa Pataky, gave birth on Friday to a daughter named India. The Australian actor said he's really happy in his new role as a father — but a little tired.
In "Snow White and the Huntsman," he plays a less paternal role, as the huntsman who is sent to kill the fairy-tale princess (Miss Stewart) by the wicked queen (Miss Theron).