Hours after being sworn in as Russia's president — his third such inauguration, but really, who's counting? — Vladimir Putin did what authoritarian rulers do.
He pretended to be good at sports.
Forgoing a black-tie inaugural ball, Mr. Putin instead donned a hockey jersey, playing in a nationally televised match between an amateur squad and a team of Russian hockey legends.
More impressively, Mr. Putin dominated, recording an assist and two goals.
As for opposing players reportedly appearing "reluctant to challenge the newly installed president," and NHL Hall of Famer Viacheslav Fetisov — a senator for the ruling United Russia party — whiffing on an overtime shootout shot that cost his team the game?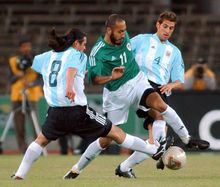 Total, total coincidence.
Indeed, world history is littered with dictators who just happened to be — ahem — towering athletic giants. In honor of Mr. Putin, we present a few of our favorite dictathletes:
Nero
Scouting report: According to Roman historians, the famously depraved emperor-cum-fiddling first responder enjoyed poetry, pederasty and wandering the streets of the Eternal City, randomly stabbing innocent people. Oh, and he also liked chariot racing — which put him squarely on the side of the hoi polloi and against the Roman elite, who looked down on the pursuit. (Chariot racing: the NASCAR of classical antiquity).
Shining moment (I): Roman historian Tacitus reports that during Nero's persecution of Christians — which took place in the emperor's personal gardens, with followers of Jesus nailed to stakes, set upon by ravenous canines and burned alive "to serve as nightly illumination when the daylight expired" — Nero enjoyed "mingling with the people in the dress of a charioteer," the rough equivalent of Stalin showing up to the Gulags in a Red Army hockey jersey. Never mind the genocide — how about last night's game?
Shining moment (II): Hardly content to watch from the stands, Nero fancied himself an actual chariot racer. According to Roman historian Suetonius, Nero postponed the ancient Olympics by two years to give himself more time to practice and prepare his horses; at the games themselves, he was thrown off his chariot, helped up by spectators and promptly thrown again. Failing to finish the race, he nevertheless was declared the winner — perhaps because he gave the judges "Roman citizenship and a large sum of money."
Sporting legacy: Long before George Steinbrenner, Nero proved that you can, in fact, buy a championship.
Scouting report: The homicidal Ugandan dictator was both physically powerful (6 feet 4 inches, 250 pounds) and mentally unstable (proclaiming himself "the Last King of Scotland.") Small wonder, then, that Amin was an accomplished heavyweight boxer in his youth.
Shining moment (I): According to a 2010 interview with Amin's former sports minister published in an East African newspaper, the Ugandan dictator decided, on a whim, to open the 1974 African amateur boxing championships with an impromptu bout between himself and national coach Peter Seruwagi. Amin wore a necktie. Mr. Seruwagi wore a track suit. Under a headline modestly reading "Boxer of the Year," the official Ugandan state newspaper trumpeted Mr. Amin's technical knockout victory, noting that "the referee had to stop the fight in the second round to save Seruwagi from further punishment." True enough — as Mr. Seruwagi later said, "If I knocked out Amin, I would not have ended the night alive. As I was entering the ring, his security men were standing at all corners. So I had to use my wisdom not to humiliate him."