BALTIMORE — Doug O'Neill is all smiles this week. Throwing out the first pitch at Camden Yards, meeting Baltimore Ravens coach John Harbaugh at a team practice and stopping to take photos, the Kentucky Derby-winning trainer is loving every second of his experience.
OK, perhaps not every second. Along with all the talk about how I'll Have Another looks sharp in preparation for Saturday's Preakness Stakes, O'Neill is dealing with criticism for some past transgressions. He has three carbon dioxide violations on his record that he has paid fines or served suspensions for and is fighting another that could carry a 180-day ban.
"It'd be great if you guys instead were asking why I wasn't a male model, or did I ever think about being a pro baseball player," O'Neill said with a laugh Wednesday. "It's all part of it. Obviously, if I didn't win the Derby, you guys would never be asking that."
That scrutiny comes with training the Derby champion, though O'Neill explained that he gets grief back home in California for what is referred to as "milkshaking," the illegal process of giving a horse a blend of bicarbonate soda, sugar and electrolytes that's designed to enhance performance and reduce fatigue.
Trainer D. Wayne Lukas, who will run Optimizer in Saturday's second jewel of the Triple Crown, went off about colleagues O'Neill, Rick Dutrow and Chip Woolley for questionable practices.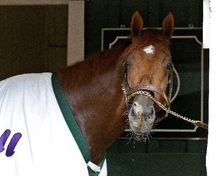 "That bothers me, frankly. I think those guys are all good enough they don't need for there to be doubts," Lukas told reporters at Pimlico on Wednesday. "I think they can train horses and not have that problem in front of them. They can do it the right way. That's just the way I feel."
O'Neill said that his barn plays by the rules and that he's "vigorously fighting the previous allegations." The affable 43-year-old first-generation horseman doesn't dodge the questions and joked that he'd love to have reporters over to his house for a cocktail once the litigation is complete.
Admittedly, this is a distraction, though, and O'Neill has been forced to defend himself, part of the price of being in such a favorable position. He said I'll Have Another and the rest of his horses go through intense exams to ensure they're pure. He conceded to running horses to fill some races but not to wrongdoing.
"I think as I've grown as a person, as a trainer, I've learned to be more relaxed with placing horses. I've got areas where I can grow and do better," O'Neill said. "We run a great operation, and anyone who's come by and spent time with us knows we all love the horses, and we do everything we can to keep them at the top of their game."
I'll Have Another appears to be at the top of his game as O'Neill, owner Paul Reddam and Co. hope the colt becomes the first since Big Brown in 2008 to win two Triple Crown races.
Arriving in Baltimore on May 7, I'll Have Another has been "the only show in town for a while." It's not quite a circus, but the glare of the spotlight is bright. It would only intensify if I'll Have Another moves on to the Belmont Stakes with the chance to make history, but that would be well worth it.
"I'm kind of used to all the highs and lows and all the daggers that are thrown at you when you get lucky and win a big race," O'Neill said. "Our main focus here, we owe it to the owners and the horse and anyone wagering on the horse, any fan of the horse, to do the best job we can and have him as prepared as we can."