Pakistani President Asif Ali Zardari will attend the NATO summit, which begins Sunday in Chicago, his office said Wednesday, signaling that a deal is close on reopening alliance supply routes into landlocked Afghanistan from Pakistani ports.
Pakistan closed the routes in November to protest a NATO helicopter attack on an outpost along the Afghan border that killed 24 Pakistani soldiers.
"Pakistan recognizes that the future of Afghanistan is being discussed [in Chicago]. They want to be at the table, and the price of being at the table is to find some resolution to this [supply-route] issue," said Marvin Weinbaum, a former Pakistan and Afghanistan analyst at the State Department and now a scholar at the Middle East Institute.
"The negotiations are still ongoing," State Department spokeswoman Victoria Nuland told reporters Wednesday about efforts to reopen the supply routes. "So we're not done yet."
Officials said the unusual, last-minute invitation to a non-member nation also underlines Pakistan's vital role in the allied exit strategy for Afghanistan, and the alliance's determination to expand its partnerships with non-member states. NATO invited Mr. Zardari on Tuesday.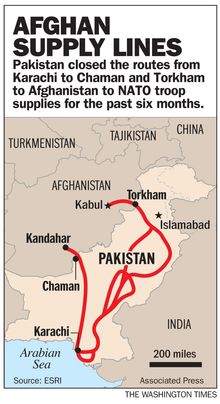 "This meeting will underline the strong commitment of the international community to the people of Afghanistan and to its future. Pakistan has an important role to play in that future," said NATO spokeswoman Oana Lungescu.
NATO leaders hope to get Pakistan's support for their transition plan for pulling U.S.-led coalition forces out of Afghanistan starting this year and finishing in 2014.
Islamabad is seen as a key player, in part because the insurgents fighting the Afghan government and coalition forces enjoy safe haven in Pakistan's lightly governed tribal areas.
NATO leaders "want to signal [to Pakistan] that they understand very well that any realistic transition plan depends on Pakistan," said James Goldgeier, a national security official under former President Bill Clinton and now a scholar at American University.
Several NATO members are expected to announce financial commitments for aid to Afghanistan, Mr. Goldgeier added. He cautioned, however, that "no country is really in a position to make firm budgetary commitments" beyond 2014, given the deteriorating fiscal state of governments on both sides of the Atlantic.
"There's going to be tremendous [budgetary] pressure to do less, spend less in Afghanistan, whatever commitments are made [in Chicago]," he said.
Pakistani officials previously had indicated that, in return for reopening the supply routes, they wanted an apology for the November helicopter attack and an overhaul of or an end to deadly CIA drone strikes against al Qaeda leaders in their tribal sanctuary.
Fees, not concessions
Now they appear to realize they will get no U.S. concessions and are instead negotiating with NATO over a fee the alliance will pay for using the supply routes.
U.S. and Pakistani officials "may find some way to finesse this issue, but [the U.S. is] not going to stop the drone strikes, and there won't be an apology [for the border attack] as such," said Mr. Weinbaum.