BALTIMORE — It was 1997, and Bob Baffert had just won the Kentucky Derby for the first time with Silver Charm. Sitting in a hotel outside Pimlico Race Course in preparation for the Preakness, he kept reliving the experience.
"I had them bring up a video recorder machine so I could play my tape 20 times a day watching the Kentucky Derby over and over and over," he said. "It never got old."
Baffert enjoyed the spoils of being a first-time Derby-winning trainer, just as Doug O'Neill has been doing since arriving in Baltimore last week. Being in this spot poses unique challenges to trainers who haven't been around this block before.
"I think the pressure is on you. The two weeks between the Derby and the Preakness, I felt like I was holding my breath," said Graham Motion, who was a first-time Derby winner with Animal Kingdom last year. "You're kind of walking on egg shells, hoping everything is going great with the horse."
O'Neill can't keep from smiling as everything appears to be going great with I'll Have Another, who's gliding over the Pimlico dirt track with ease every morning. But the first-generation horseman knows the reality of bringing a Derby winner to the Preakness is not easy.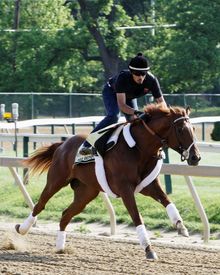 So he chatted up Hall of Fame trainer Jack Van Berg at Hollywood Park last week.
"He gave me some suggestions of not working the colt here, just galloping, which we were planning on doing," he said. "It's nice talking to guys who have already been here and done it. There is nothing like information from a Hall of Fame horseman."
And while competitors at Pimlico weren't exactly doling out advice to help O'Neill keep his Triple Crown dream alive, fellow trainers remember what it was like when they were in his boots.
"It's been so long I've forgotten. I know it's exciting. You win the Derby and you're on a super high. And you're coming into the Preakness really not knowing what's really going to happen," Baffert said. "But at the same time, you're not thinking Triple Crown, you're just thinking, 'Man, I just won the Derby. I just won the Derby, and I'm bringing my horse here and I hope he runs another big race.' "
Another Hall of Famer, D. Wayne Lukas, had a Preakness title under his belt before he came to Pimlico with Derby champion Winning Colors in 1988. To Lukas, there's less pressure even though it's a big challenge
"It's not your everyday fifth race on Thursday," he said. "You've already gotten over that big hurdle of the first one. This one is a little more laid-back. You know you're a competitor, even though you may not win it. I always felt it was a lot less. The first one is the toughest one, always."
That "super high" is hard to come down from. The past five horses to win the Kentucky Derby were trained by first-time winning trainers, and only Rick Dutrow and Big Brown in 2008 managed to capture the Preakness.
Lukas said the "spotlight is what you make it," but it's undeniable that the Derby winner has a target on his back.
"It's more intense because you know everybody's concentrating on it and focusing on it," said Barry Irwin of Team Valor, which owns Animal Kingdom. "So that adds a layer of tension to it."
Motion pinched his fingers together when talking about just how close Animal Kingdom came last year to going 2 for 2 to start the Triple Crown. The loss hit the trainer hard when he got to Pimlico on Thursday.