Don't call the trio of Mike Knuble, Keith Aucoin and Joel Ward the Washington Capitals' fourth line.
That's where they take their shifts, but early against the New York Rangers and late in the Boston Series, the fourth line has been the Caps' best.
"They're working. You got two big wingers, and you got a crafty centerman. They work really well together," forward Brooks Laich said. "They don't give up many chances against, and they do things right. They get in lanes, they get the pucks out. … They're unheralded guys that are making a big difference for our team."
Perhaps a bigger difference than the likes of Alex Ovechkin or Alexander Semin, because Ward and Knuble contributed two key goals: in overtime of Game 7 at Boston and then on a gorgeous passing play in a 3-2 win in Game 2 at New York.
"It was a good play. It was a tic-tac-toe. I thought the fourth line was really good," coach Dale Hunter said. "They played some minutes for me and good defensively, but when you chip in a big goal in the playoff like that, that's key for your team to win."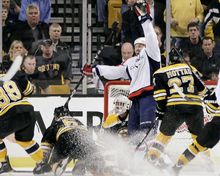 Hunter has a penchant for calling the likes of Knuble, Ward and Aucoin "foot soldiers" and vital to the Caps' success.
They're not flashy, but that's the point.
"We're a line that we keep it simple and get the puck in deep and we know our role. We grind it out, and that's why we're successful," Aucoin said. "We know our role is to go out there and get the puck in deep, cycle the puck and get the momentum for the team and contribute whenever we possibly can."
Momentum from an energy line has a lot to do with wearing down the opposing defense and generating chances in the offensive zone.
Sometimes it doesn't matter if the fourth line produces. Control the puck and see what happens.
"We're complementing each other. Joel's been very good along the boards and he's a good passer when he gets some time. Obviously, Keith, he's the playmaker and he's the one that likes to pass and he's good at distributing the puck and he's played very well defensively," Knuble said. "That's a big thing. I think all three of us have played well defensively. We've had some limited chances at the offensive end, but they've gone in lately."
When Ovechkin played just 13:36 in Game 2, a playoff career low, Hunter explained that his captain doesn't need a whole lot of ice to score goals. He could've said the same about Knuble, Aucoin and Ward.
"I think we're getting an opportunity to get out there a little bit," Ward said. "It's just three guys that can play and getting out there and getting repetitions and making things happen. We feel good about ourselves and just try to obviously contribute as much as we can."
And they don't make a whole lot of mistakes. Knuble and Ward kicked themselves for being on the ice during a Brad Marchand goal in Game 5 of the Bruins series and desperately wanted to get back even on the ledger.
From that point through Game 2 against New York, they were on the ice for four Caps goals and none against.