Mormonism and Islam are among the fastest growing religions in America, while just over half of all Americans are unaffiliated with any denomination, according to a major census of the country's religious congregations published Wednesday.
The decennial census, released by the Association of Statisticians of American Religious Bodies in Chicago, found that the U.S. Muslim community had increased 160 percent from approximately 1 million in 2000 to 2.6 million in 2010.
There are 6.1 million U.S. members of the Church of Jesus Christ of Latter-day Saints, more commonly known as the Mormons, up 45 percent for the same period; and there are 1 million Buddhists, located mostly in the western part of the country. Mormonism, founded in upstate New York, is spread throughout the nation, although 1 in 3 members of the LDS Church live in Utah, the study revealed.
Roman Catholic and the "mainline" Christian churches - Methodists, Episcopalians, Evangelical Lutherans, Presbyterians and others - had substantial drops in membership, said Dale Jones, a researcher who worked on project for the statisticians association.
The report was released at a time when interest in religion and politics is at a record high. The questions about President Obama's religion and likely Republican challenger Mitt Romney's Mormonism loom large over the landscape.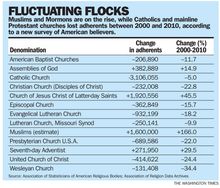 Such religion-related issues as the Obama administration's health care mandate on contraception and whether church employment practices are covered by anti-discrimination laws, have scored major headlines in the past 12 months. The contraception question spilled into several Republican Party presidential primary debates.
The growth of religions whose adherents are usually highly committed to rituals and practice might be attributed to a search for structure in an unstable world, said William T. Stuart, anthropology professor at the University of Maryland in College Park.
"There's something about strictness, a call to commitment, to people ready-made for conversions. Some come from [looser] traditions to form a nation of seekers," Mr. Stuart said. "It seems to me that the decline of the more moderate churches that might be good on intellectual grounds … is because they are not particularly attractive to people seeking an answer to their sense of ennui and frustration."
That the growing faiths aren't afraid to seek out converts is another factor, Mr. Stuart said: "Islam, Mormonism, evangelicals all strongly proselytize. A church that is not missionizing is a dying church. If you don't reach out, then you decline."
At least one researcher questioned the methodology, saying the 158 million "unaffiliated" figure is too high, and the 2.6 million Muslim head count is too low.
Albert Hickman, a researcher at the Center for the Study of World Christianity at Gordon-Conwell Theological Seminary in South Hamilton, Mass., said his research better identifies people without formal affiliation with a church or mosque.
"We show 248 million Christians in the United States, but a significant portion aren't affiliated with any church. 'I'm a Christian but not a church member.' So we show 202 million who are church members, 46 million unaffiliated," he said.
He also said the number of American Muslims is closer to 4.7 million.
Roman Catholics make up America's largest religious community, the study found, with almost 59 million members, or 19.1 percent of the population.
"Evangelical and Conservative" Protestants come in next at just over 50 million, or 14.3 percent of Americans. The category ranges from the nearly 20 million Southern Baptists, who on their own would comprise 6.4 percent of Americans, to the 1.2 million members of the Silver Spring-based Seventh-day Adventist Church, or 0.4 percent of the population.