LOUISVILLE, Ky. — Country music legend Loretta Lynn is three years older than she has led people to believe, an age change that undermines the story she told of being married at 13 in "Coal Miner's Daughter," documents obtained by The Associated Press show.
Miss Lynn's birth certificate on file at the state Office of Vital Statistics in Frankfort, Ky., shows that Loretta Webb was born on April 14, 1932, in Johnson County, Ky. That makes her 80 years old, not 77. Also on file is her marriage license and two affidavits from her mother, Clara Marie Ramey, and S.W. Ward Jr., who was not related to the family, listing the same birthdate.
The records weren't filed until 1965, which meant that Miss Lynn needed multiple documents to prove her age at that time. Miss Lynn's signature appears on the document as Loretta Webb Lynn.
Melvin Webb lists his daughter "Loretta" as 7 years old for the 1940 census, according to a digital copy on file at the Kentucky Historical Society. Miss Lynn's marriage license, obtained from the Johnson County clerk's office, lists her as 15 on Jan. 10, 1948.
In "Coal Miner's Daughter," the autobiography that became an Academy Award-winning film, Miss Lynn told a different story — that she was married at 13 and was a mother of four by 18. Most books and public references to Miss Lynn list her current age as 77.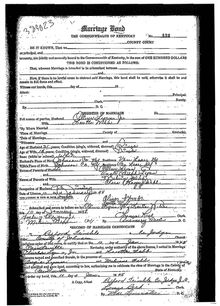 When contacted by the AP, Miss Lynn's spokeswoman, Nancy Russell of Nashville, Tenn., declined comment. She said that Miss Lynn has told her before in no uncertain terms, "If anyone asks how old I am, tell them it's none of their business!"
Miss Lynn's younger brother, Herman Webb, declined to disclose Miss Lynn's age, although he said there might have been a "mix-up" with Miss Lynn's paperwork after she moved to Nashville to launch her country career. Her parents and many other relatives are dead, including her husband, O.V. "Mooney" Lynn.
Certainly Miss Lynn isn't the first celebrity of a certain age to be less than forthcoming about a birthday, but the discrepancy is significant because age isn't just a number for the Country Music Hall of Fame member. It is woven into her compelling life story, made famous in her 1976 best-selling autobiography, "Coal Miner's Daughter," and the subsequent film starring Sissy Spacek. The movie made $67 million nationwide and was nominated for seven Oscars; Miss Spacek won for her portrayal of Miss Lynn.
The Grammy-winning singer recently announced that it will become a Broadway musical, starring actress and singer Zooey Deschanel.
The way Miss Lynn chose to tell it in the book, she was married at 13, moved with her husband to Washington state at 16 and was a mother of four by 18. Miss Lynn had six children in all. The marriage certificate shows that Miss Lynn instead married just shy of her 16th birthday, which was not unusual in Kentucky at that time. Her husband was 21.
It would have been illegal for a girl under the age of 14 to marry in Kentucky in 1948, said R. Eric Henninger of the Kentucky State Law Library. At that time, he said, "lots of folks didn't have any sort of official proof of age."
Miss Lynn addresses the perils of disclosing her age in her autobiography.
"When I was born, Franklin Delano Roosevelt was the president for several years. That's the closest I'm gonna come to telling my age in this book, so don't go looking for it," she writes. "I'm trying to make a living singing songs. I don't need nobody out there saying, 'She don't look bad considering she's such-and-such years old."'
Miss Lynn's co-author on "Coal Miner's Daughter," New York Times sports columnist George Vecsey, said in a phone interview that he did not verify the age claims in the book with official documentation.
"It's her book, and I never saw a birth certificate, marriage license. It's what they told me," he said. "I couldn't say that she was the one who told me first. Between her manager (David Skepner) who has passed and her husband who has now passed, it was at least three different people telling me that."