Country singer Alan Jackson has raised more than $150,000 to help a Virginia county rebuild schools damaged by last year's earthquake.
A benefit concert by Mr. Jackson drew 6,000 people to Louisa County on Sunday night. He performed in the parking lot of Louisa County High School, which was closed after the magnitude-5.8 earthquake on Aug. 23, 2011.
Mineral, the town at the quake's epicenter, won the show in an online voting contest.
Media outlets report that Mr. Jackson told the crowd many of those who voted for Mineral in the contest aren't from the town. He said that shows people in America take care of each other.
Capitol Records provided about 3,000 free tickets and sold another 3,000.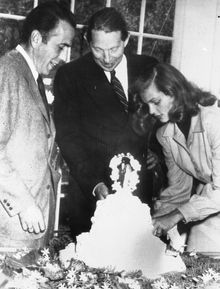 Stephen Bogart to help save farm where parents married
The oldest child of actors Humphrey Bogart and Lauren Bacall is helping to raise money to renovate part of the Ohio farm where the pair married in 1945.
The News Journal in Mansfield reported that Stephen Bogart will make his first visit to nearby Malabar Farm from June 1 through 3. The meet-and-greets and special meals are part of a fundraising campaign to help renovate the mansion on the property.
Malabar Farm administrative director Sybil Burksey said water and flooring problems have left the home in desperate need of repairs. The farm founded by celebrity author Louis Bromfield in 1939 is now part of a state park.
Mr. Bogart said his mother, who turns 88 this year, is happy he's making the trip to see where his parents' marriage began.
Tim McGraw recording new music on new label
Tim McGraw has chosen a new record label run by an old friend.
The country music superstar has signed a multi-album deal with Scott Borchetta's Big Machine Records, officially ending his acrimonious relationship with his only previous label, Curb Records.
Mr. McGraw made the announcement Monday at the Country Music Hall of Fame and Museum. It's the start of the second phase of one of country music's most successful careers, and Mr. McGraw said he hopes he can regain some of the momentum he lost while fighting to end his "lifetime" contract with Curb Records. Though the two sides remain locked in a legal dispute, a judge last year freed Mr. McGraw to begin recording for a new label.
Mr. McGraw said in an earlier interview with the Associated Press that he and Mr. Borchetta sealed the deal May 9 at the Greyhound bus station in Nashville, marking the anniversary of Mr. McGraw's arrival in Music City with a guitar in one hand and a suitcase in the other.