Television journalist Katie Couric urged University of Virginia graduates to take risks and persevere.
The former "Today" host and CBS News anchor addressed about 6,400 graduates on Sunday, the Charlottesville Daily Progress reports. She recounted the deaths of her husband and sister, both of whom died of cancer, and said, "Life can deal you some crushing blows, and we all need a deep reserve of resilience to survive."
Ms. Couric, now with ABC News and developing a daytime talk show, "Katie," that debuts Sept. 10, also joked about criticism she faced as the first female solo anchor of a network's nightly news program.
She quipped, "Some said I lacked 'gravitas,' which I've since decided is Latin for 'testicles.' "
Ms. Couric is a 1979 U.Va. graduate. The university's new cancer center is named for her sister Emily Couric, a Virginia state senator who died in 2001.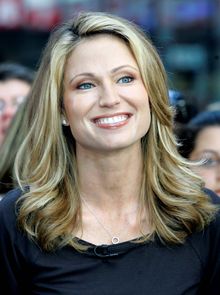 Weekend 'Today' anchor Robach heads to ABC
Weekend "Today" show anchor Amy Robach is jumping from NBC News to ABC.
ABC said Monday that Ms. Robach will be a news correspondent based in New York. She has been the co-anchor of the weekend "Today" edition since 2007.
Ms. Robach worked in local news in the District; Charleston, S.C.; and Athens, Ga., before joining MSNBC as a daytime anchor in 2003.
ABC News President Ben Sherwood called Ms. Robach a "tenacious and skilled reporter" who has covered stories including Hurricane Katrina and the death of former President Ronald Reagan.
Food Network veteran cooks up YouTube channel
Bruce Seidel is confident the future of food television won't be seen on television.
Which is why the Food Network and Cooking Channel veteran has checked out of network TV to oversee the launch of YouTube's latest original content channel, Hungry. The channel, which goes live July 2, is expected to feature a freewheeling blend of how-to and celebrity-driven food videos.
The venture is part of the Google Inc.-owned video site's plan to launch roughly 100 channels of niche-oriented programming. Earlier this month, YouTube pledged to spend some $200 million to help market those channels across Google and its advertising network.
Mr. Seidel said he was drawn to the project in part for YouTube's ability to create a more direct community with viewers than generally is possible with network television. It also offered more flexibility not just for viewers, but also for producers, who can more easily experiment with format and content.