As Memorial Day weekend marks the start of the summer driving season, consumers are seeing a significant decline in gas prices — a reprieve from the sky-high pump prices that analysts feared.
This week, nationwide gasoline prices averaged $3.68 per gallon, down 26 cents from early April peaks, according to AAA, and also 16 cents cheaper than this time last year. The Washington metro area had prices this week a shade under the national average, at $3.66 per gallon.
"Six months ago, experts said gasoline prices could hit $5 a gallon this summer," American Petroleum Institute chief economist John Felmy told reporters Wednesday. "They've stopped making those predictions."
The U.S. Energy Information Administration recently predicted gas prices will stay stable this summer, averaging $3.79 a gallon.
"The good news is that gasoline prices have recently headed in a positive direction for consumers, and managing demand could help that trend continue," Mr. Felmy said, pointing out the possible boost to the economy and the U.S. trade balance.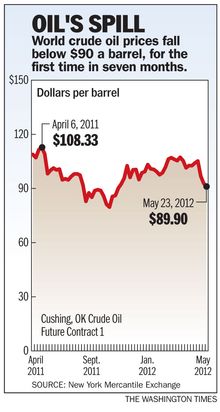 The gasoline price drop is tracking with similar reductions in the price of crude oil, which has dropped nearly 15 percent this month.
On Wednesday, benchmark crude oil prices in New York trading fell $1.95 per barrel to close at $89.90, its first finish below $90 per barrel in seven months.
According to Mr. Felmy, the declining oil prices are the result of both rising supply and declining demand. Last week, the U.S. was buoyed by its highest level of oil supplies since 1990, growing by 900,000 barrels to 382.5 million barrels.
"America's refineries are producing fuel at record levels, offsetting some imports and providing more fuel for export," Mr. Felmy said.
However, he cautioned, the declining demand is closely tied to the struggling world economy, including a slow recovery in the U.S. and a double-dip recession in debt-wracked Europe.
"All have hurt demand," he said.
Despite these declines, Mr. Felmy said prices are still higher than U.S. consumers would prefer, nearly twice what they were four years ago.
"[An average] $3.79 a gallon is still a significant cost for most families, many of whom can recall 2008 when gasoline prices were below $2 a gallon," he said.
Mr. Felmy said the U.S. government could continue these oil and gas price declines by approving oil projects, such as the Keystone XL pipeline.
"If U.S. policymakers are serious about helping consumers, they'll help expand opportunities for more oil and gas development," he said. "They're not getting that job done now."