DOVER AIR FORCE BASE, Del. — More than 83,000 Americans are missing from overseas conflicts dating to World War II — and James Canik's mission is to account for each and every one of them.
A daunting task, certainly, but not a solitary one.
As deputy director of the Armed Forces DNA Identification Laboratory, Mr. Canik leads scores of forensic scientists who scour files and test genetic material to determine the identities of the thousands of remains gathered by the Defense Department each year.
Directed by Congress and the Pentagon to capture the phantoms of wars, Mr. Canik, a Vietnam veteran, sees his job as a small part of the military's commitment to honor service members and their loved ones.
"I think what is really important is the fact that we don't forget," said the 64-year-old former medical evacuation pilot. "We are always going to go back. We're always going to look. We're going to do our best to provide the answers to the families."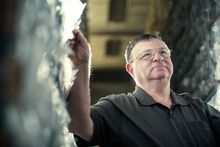 Many Americans will commemorate Memorial Day by remembering the sacrifices of loved ones in the armed services. The Rolling Thunder movement, which on Monday marks 25 years of gathering motorcyclists in Washington to draw attention to the prisoner-of-war/missing-in-action issue, was spurred by those who still grieve with questions about their absent friends and relatives.
Mr. Canik's lab recently helped provide answers for a family in Bowersville, Ohio.
A family reunited
Army Cpl. Clyde E. Anderson was last seen Nov. 28, 1950, driving a jeep in a convoy along the Chosin Reservoir in North Korea. The convoy was ambushed by communist forces, and he was listed as missing in action.
Cpl. Anderson's sister Martha, who raised him when he was a boy, held out hope of seeing him again but died in 1994, never knowing what had become of him.
Martha's daughter, Carol Snider, had heard stories about her uncle Clyde, whom she never met. Still, she needed to know what happened to him and where he was.
This month, the Defense Department announced that the remains of Cpl. Anderson of the 31st Regimental Combat Team, also known as Task Force Faith, had been identified and would be returned to his family for burial with full military honors.
"It was very sad, bittersweet," said Donald Snider, Mrs. Snider's husband. "It's a peace of mind. My wife is just 'wow.' It's a hundred pounds lifted off each shoulder."
The Sniders attended Cpl. Anderson's burial May 12 in Blanchester, Ohio.
"It was grand. I had never seen anything like that in all my life," Mr. Snider said. "The 21-gun salute, the motorcade. … People got out and saluted when they passed. It was unreal."