It's summertime, and the living is … boring? Well, you don't have to just sit at home and watch reruns on TV. Every summer, it seems, there is more to see, hear and enjoy in the Washington area.
In Castleton, Va., conductor Lorin Maazel's festival seems firmly established as a music lover's venue. And at the Ash Lawn Opera Festival, Michelle Krisel, formerly tenor Placido Domingo's assistant at the Washington National Opera, has enlivened an old, established summer event. And if it's variety you crave, the Wintergreen Summer Music Festival offers more than 200 musical events, both classical and jazz.
So break out of that summertime rut, hit the road and find a new adventure among this sampling of what's on offer within driving distance of the District:
ASH LAWN OPERA FESTIVAL
In Charlottesville, Va., home of Thomas Jefferson's Monticello, Jefferson is referred to familiarly as "TJ." The 34th season of the Ash Lawn Opera Festival - from July 13 to Aug. 7 - includes four performances of Mozart's fantasy opera "The Magic Flute" ("Die Zauberflote") sung in German with dialogue in English and English supertitles, and five performances of Meredith Willson's ever-popular "The Music Man." Both will be performed at the historic Paramount Theater in downtown Charlottesville. Also planned is a family version of "The Magic Flute" - "Mozart's Magic Piccolo" - an hourlong "introduction to the fun and magic of opera," the festival announcement promises.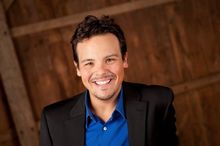 Metropolitan Opera sopranos Jennifer Zetlan and Emily Hindrichs and tenor David Portillo head the "Flute" cast, while Met regulars Trevor Scheunemann and Meredith Arwady are the leads for "The Music Man." Tickets range from $11 to $54.
For more program information, visit www.ashlawnopera.org or call 434/293-4500. For tickets, visit www.theparamount.net or call 493/979-1333.
CASTLETON FESTIVAL
The Castleton Festival of opera and orchestral music is the brainchild of top international conductor Lorin Maazel. It's held in a tent on the sprawling grounds of the Rappahannock County estate where he lives with his wife, Dietlinde Turban Maazel. The June 22-to-July 22 program includes Bizet's "Carmen" and Rossini's "Il Barbiere di Siviglia."
The festival opens with a recital by soprano Denyce Graves - who will not, alas, be singing Carmen, one of her signature roles. Instead, promising young artists will be showcased in the operas. That's one of the festival's intentions, hence the "Stars of the Future" concert, set for June 30. Also featured will be Stephen Sondheim's "A Little Night Music."
The festival brochure quotes Mr. Maazel as saying "I shall be there all the time doing my thing … mentoring, conducting, smiling." He will conduct the Castleton Festival Orchestra in Beethoven's Ninth Symphony as well as a cello concerto by Washington-based Argentine composer Maximo Flugelman with Inbal Segev as soloist.
Seldom Scene will be featured in a bluegrass concert on July 3.
Tickets for the main events range from $20 to $120.
For more information and the schedule of events, visit www.castletonfestival.org or call 540/937-3454. For tickets, visit www.castletonfestival.org or call 866/974-0767.
AMERICAN SHAKESPEARE CENTER