ANALYSIS/OPINION:
A lot has changed since Myrtis Matthews of Pittsburgh and native Washingtonian Ronald Crockett enlisted in the military during the Korean War.
Women now are demanding the right to be crippled in combat, raped as prisoners of war and treated like men in an oxymoronic "gender neutral" armed forces environment.
For men, the draft is no more, but Mr. Crockett, unlike many of today's misdirected youths, figured his life's prospects would greatly improve if he could fulfill his dream of flying.
No. The all-volunteer U.S. military isn't what it used to be during the Cold War and neither are today's coming-of-age youths, who could use the hard-nosed, lifelong lessons of basic training to better appreciate humankind, gain healthier attitudes about their bodies, experience true camaraderie - and be doused with a strong dose of authority.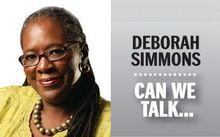 "Young people need to be taught how to be responsible for themselves, their buddies and their fellow man," said Mrs. Matthews, who enlisted in the Army after graduating from Schenley High School and finding her employment prospects limited to domestic work. "If teenagers went through a few months of basic training, there wouldn't be a whole lot of gangs, bullying and fighting. They're looking for love, respect and family in all the wrong places.
"Basic was tough, even for women" said Mrs. Matthews, who was trained at Fort McClellan in Alabama and later stationed at Fort Bragg in North Carolina. "You're told when to get up, eat and go to bed. You're up when the stars are still in sky, falling in formation, running exercises and calisthenics, and [attending] weaponry classes.
"We [women] didn't serve combat roles. Most of us were supporters with office and administrative duties, and that was fine," said the now-retired retail worker, who left the Army after marrying a soldier she met at Fort Bragg.
Unlike Mrs. Matthews, Mr. Crockett knew he would attend college but, like her, sees the advantages basic training could offer high school grads.
"I was working at the Navy Yard and remembered a Navy guy at Howard University passing out material," he said. "I wanted to fly, having watched those World War II movies. I went to the [Anacostia] Naval Air Station, passed the written and physical exams and in 1955 went to Pensacola [Fla.], and I was stationed at Patuxent [in Maryland]."
Now retired from the military, IBM and Howard as an information-technology official, Mr. Crockett spends much of his time at the nation's first black high school, Dunbar High in Northwest, which for decades was one of America's premier secondary schools.
Would basic training help turn lost youths into respectable and honorable young men and women?
"You find out a lot about yourself in the military," Mr. Crockett said. "The Marines ran an indoctrination battalion [and] after a while you figure out you're all in this together and band together. Guys would help one another.
"I think that's the thing to tell youngsters," he continued. "I'm active with Dunbar alumni, in the school a couple of two, three times a week, and talk with those who are willing to talk."
I chose to honor this Memorial Day by speaking with a man and a woman who volunteered to served their country. I met Mr. Crockett through one of his longtime buddies, social commentator and Navy veteran Bill Cosby, who was stationed in Argentina, Newfoundland, and the D.C. area during the Cold War.