Here
Edward Sharpe and the Magnetic Zeroes
Vagrant
★★★
At times, Edward Sharpe seems to be the musical equivalent of Austin Powers, cryogenically frozen during an earlier era and unleashed on the modern world like a human time capsule. Part West Coast hippie and part Appalachian wild man, he's the sort of bearded, peace-loving beatnik who would've ruled the roost in 1967, back when people like him ditched their small American towns and thumbed rides to California to join the Summer of Love.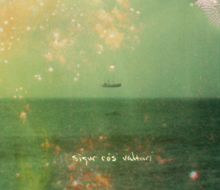 That summer has come and gone, though, leaving Mr. Sharpe — the stage name of songwriter Alex Ebert, leader of the sprawling folk-pop outfit Edward Sharpe and the Magnetic Zeroes — to stick out like a sore thumb in the 21st century. His vintage, fish-out-of-water schtick has worked for him in the past, though, setting him apart from virtually every other contemporary band this side of the Polyphonic Spree and sending "Home," a breezy track from the band's debut album, onto the charts in multiple countries.
Mr. Sharpe is the clear star on his band's second release, "Here," but the other nine Magnetic Zeroes take a more active role this time around. "Fiya Wata" is a mind-bending rock anthem showcasing the powerhouse vocals of his girlfriend, Jade Castrinos, and other tracks heap piles of accordion, horns and harmonies onto Mr. Sharpe's voice. Whenever "Here" starts veering toward God-fearing gospel music, the whole band even turns itself into a church choir.
Occasionally, the album's woozy, mellow vibe gets a little too chilled-out for its own good, and the Magnetic Zeroes wind up sacrificing catchy hooks for the sake of atmosphere. The reggae-tinged "One Love to Another" is the best Wailers song Bob Marley never wrote, though, and "I Don't Wanna Pray" finds a good balance between bluegrass, cosmic country-rock and old-school Baptist hymns.
No matter how genuine Mr. Sharpe's praise may be, this isn't the sort of music they play in Sunday school. A former addict who launched the Magnetic Zeroes after completing rehab, Mr. Sharpe sings these psychedelic, off-kilter folk songs like he's leading the world's coolest church camp, not thumping his Bible from behind the pulpit. Whenever his band hits the right note, though, it's hard not to be a convert, at least until the album's over.
Valtari
Sigur Ros
Parlophone
★★
At its worst, Sigur Ros' music sounds like the soothing, atmospheric stuff your yoga teacher plays during shivasana, when everyone is supposed to lie down on their yoga mats and slowly release any remaining tension from their bodies. At its best, it's transcendent, cinematic music for those who are willing to think outside of the box, with occasional songs that reach the same ethereal heights as prime Radiohead.
"Valtari," the band's sixth album, is a mix of both camps. Like most Sigur Ros releases, it seems to exist in a perpetual state of slow-motion, with sky-high melodies that float into the picture before drifting away, vanishing into the background like wisps of silk. There's little drumming on this album, so the songs don't even keep a steady beat. They just spill out slowly, like cold molasses from a barrel.