Lady Gaga told fans she was "devastated" at having to cancel her sold-out show in Indonesia following threats by Islamists who called her a "devil worshipper."
Controversy over the concert is a blow to the predominantly Muslim country's reputation as a tolerant, pluralist society that respects freedom of expression. Some fans accused police — who refused to issue a permit over concerns about security — of buckling to the will of a small group of thugs.
"We had to cancel the concert in Indonesia," the 26-year-old pop diva tweeted to her followers Sunday night after promoters acknowledged concerns about her own safety and that of her "Little Monster" fans if the show went ahead.
"I'm so very sorry to the fans & just as devastated as you if not more," she wrote. "You are everything to me."
Indonesia, a secular nation of 240 million, is often held up by the U.S. and others an example of how democracy and Islam and can coexist. But Islamists have become more vocal — and violent — in recent years.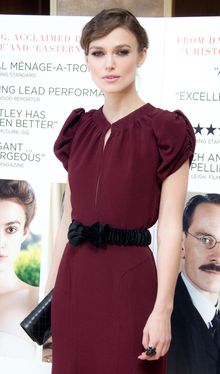 "This is a victory for Indonesian Muslims," said Salim Alatas, one of the leaders of the Islamic Defenders Front. "Thanks to God for protecting us from a kind of devil."
The Islamic Defenders Front had said Lady Gaga's sexy clothes and provocative dance moves would corrupt the youth. They vowed to turn out at the airport by the thousands if Lady Gaga arrived. Others said they bought tickets so they could wreak havoc from inside the 52,000-seat stadium in the capital, Jakarta.
Police responded by denying the necessary permits. Then, after public outcry, they said they'd reconsider — but only if Lady Gaga agreed to tone down her act, which she refused. Michael Rusli, head of Big Daddy, promised "Little Monster" fans full refunds.
Actress Keira Knightley engaged to be married
Keira Knightley, the glamorous star of "Pirates of the Caribbean," is engaged to be married, her publicist said last week.
Publicist Sara Keene confirmed that Miss Knightley is to marry her boyfriend James Righton, keyboard player for rock group Klaxons.
She said the couple were not releasing any details of the proposal, and did not have any comment on wedding plans.
The couple have been dating since early last year. Previously, Miss Knightley, 27, had dated actor Rupert Friend for several years.
Miss Knightley first won acclaim for her role as a soccer-playing teenager in "Bend It Like Beckham." She went on to star in the first three "Pirates of the Caribbean" movies and was nominated for an Oscar in 2006 for her role as Elizabeth Bennet in an adaptation of Jane Austen's "Pride and Prejudice."
De Niro jokes to Bates graduates about not going to college