President Obama's glittering support in Hollywood on the West Coast is about to be augmented by titans in the book publishing world on the East Coast. They will soon step forward and make themselves known. Publishing People for Obama have organized both their cause and an inaugural event June 18 — a fundraising soiree at the 5,000-square-foot Midtown Loft, an upscale Manhattan event site that boasts spectacular views of the Empire State Building.
The host committee includes such powerhouse literary uber-agents as Barbara Lowenstein and Jamie Raab, Thomas Dunne, who founded the publishing house of the same name, plus 80 other executives and some 220 guests.
"You can make a difference. The book industry is getting together to make sure Obama is re-elected!" the organizers say in the invitation, which features a guest appearance by Obama senior adviser David Plouffe, a performance by country chanteuse Rosanne Cash and tickets ranging from $100 to $1,000.
CHEF CNN
Well, really good french fries transcend all cultures and food is the universal language, though it's doubtful we'll see, say, Emeril Lagasse signing on with Fox News any time soon. Nevertheless, globe-trotting, cobra-eating, Emmy-winning, black leather-clad, extreme chef Anthony Bourdain has abandoned the Travel Channel for CNN, where he'll host a new prime-time Sunday program.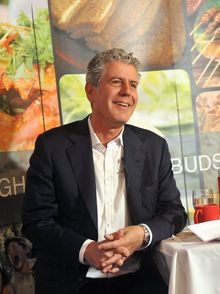 This is a man who ate seal eyes, an ant egg omelet and a, uh, unwashed warthog anus.
Though the show has no name yet, CNN Worldwide Executive Vice President and Managing Editor Mark Whitaker describes Mr. Bourdain as an "outspoken commentator on social trends." The network says it's a "further step in broadening and distinguishing CNN's weekend programming" and that the rakish Mr. Bourdain, 55, will provide commentary for other shows.
That should be interesting on Election Night, should the chef join the presidential reportage team.
"I think the world is going to get a whole lot bigger for me," Mr. Bourdain says.
WEINER, PART TWO
It was just more than a year ago that then-congressman Anthony D. Weiner of New York managed to tweet himself into a scandal, and ultimately, a resignation from office. But things appear to have changed.
"He's gone from dirty self-portraits to dirty diapers. A year after randy ex-US Rep. Anthony Weiner's political career collapsed in a sexting scandal, the disgraced pol is still without a job — left to pull duty as Mr. Mom for his newborn son as his powerhouse wife, Huma Abedin, globe-trots with the diplomatic corps," writes Josh Margolin, a scribe for the New York Post.
"But he still hasn't figured out what his next real act will be. Political consulting has been discussed. So has a TV pundit slot. But for the time being, most of Weiner's efforts are spent doing daddy duty, pals said," says Mr. Margolin, adding that a friend says 5-month-old Jordan "seems to have been really, really positive" for the former lawmaker, though one congressional source predicts Mr. Weiner is "going to want to make a resurgence."
NOT QUITE CONVINCED
How involved should the U.S. become in Syria? Mitt Romney agrees with President Obama's decision to expel Syria's senior envoy from Washington following a particularly brutal government attack on the village of Houla last week. Public opinion still appears to be evolving.