Defense Secretary Leon E. Panetta gave U.S. Naval Academy graduates a charge Tuesday — to lead a "resurgence of America's enduring maritime presence and power" in the Asia-Pacific region and around the world.
"That reality is inescapable for our country and for our military, which has already begun broadening and deepening our engagement throughout the Asia-Pacific," Mr. Panetta said.
"Your charge is to help ensure the peace and prosperity of the Asia-Pacific region for the 21st century," he said. "We need you to project America's power and to reflect America's character: to serve on ships and submarines, to fly planes, and to train and operate throughout the region."
Mr. Panetta also warned graduates to stay vigilant against China.
"China's military is growing and modernizing. We must be vigilant. We must be strong. We must be prepared to confront any challenge," he said.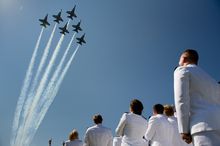 "But the key to peace in that region is to develop a new era of defense cooperation between our countries — one in which our militaries share security burdens to advance peace in the Asia-Pacific and around the world."
The defense secretary also implored graduates to build robust partnerships throughout the region and to strengthen and modernize "historic alliances" with Japan, Korea, Australia, the Philippines and Thailand.
"The project of your generation will be sustaining and enhancing American strength across the great maritime region of the Asia-Pacific," Mr. Panetta said at the graduation ceremony Tuesday, the eve of a week-long trip to Southeast Asia, including India. The secretary will travel to China later this year for the first time as Pentagon chief, he said.
"I'll tell all of these nations that the United States will remain a Pacific power," he said.