MIAMI — Donovan Solano pulled up outside Miami International Airport on Monday night and waited. The Miami Marlins infielder had just finished the eighth full day of his major league career and here he was to pick up his brother, Jhonatan, whom the Washington Nationals had summoned for his first shot in the majors.
Jhonatan appeared. Both brothers cried.
"Hey, bro," Donovan told Jhonatan. "We did it."
Solano became the fifth catcher on Washington's 40-man roster Tuesday when the Nationals, unwilling to rush starting catcher Jesus Flores back from a sore right hamstring, added him as insurance. His first call Monday was to his wife, then his parents, then Donovan, who'd already heard the good news.
Less than 24 hours later, Myriam Preciado and Luis Solano stood about 20 feet away from the entryway to the first major league stadium they had ever been in. Hands crossed in front of them, Myriam wore a Marlins jersey, Luis a Nationals uniform top. But they did not go in. They waited.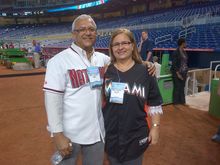 A moment later, their oldest son emerged. Then the tears began to flow.
"Felicitaciones," Myriam said, congratulating Jhonatan and telling him that she loves him. "Te amo. Felicitaciones. Te amo."
"Wow," Solano said. "The only thing I can say is thank God for everything. This is like Memorial Day for the Solano family. With my brother in the other dugout. It will be exciting. I'm happy. I'm really happy."
The journey to get to this point, for Jhonatan, whose nickname is "Onion" because of the vehicle in which he crossed the border from Colombia to Venezuela for his major league tryout, was interesting.
It started with that journey. "Eleven players without a visa trying to pass to Venezuela for a tryout," Solano said. And he spent it in the back of a bus with a bunch of onions and tomatoes, sitting near a woman who'd bought a pig in Colombia and was trying to get it over the border. When he told the story at his tryout, "They say, 'OK. Onion. That's your nickname now."
He spent six years in the minors after the Nationals signed him in September 2005 and was one of three catchers on the team's 40-man roster when the season began, making him the likely call-up if either Wilson Ramos or Jesus Flores was hurt.
But he was on the disabled list for roughly a month with a neck issue, and when Ramos tore his ACL on May 12, Solano was not active. Instead, the Nationals added Sandy Leon from Double-A. And when he was hurt two days later, they had no choice but to add Carlos Maldonado.
He returned to the active roster May 24. Four days later, Flores' hamstring tightened, and he became just the 13th Colombian player to make the major leagues. Donovan was the 12th.
"When something happens in life, it's because God made it happen," Solano said. "I [felt] like, 'Wow, maybe if I'm healthy maybe I'd go to the big leagues.' But I'm feeling great for Leon. I know him a lot. So I said, 'OK. I'll wait for my opportunity.' And now it's here."
Myriam, a nurse, and Luis, a retired electrician and former pitcher and infielder, don't speak English. But they struggled even to find the Spanish adjectives to describe their emotions Tuesday. It wasn't difficult to tell what a big day this was for them, though. They joked that they would switch jerseys for tomorrow's game when Myriam would wear the Nationals uniform, Luis the Marlins.