No Doubt's attorneys can argue to a jury that the band was misled by gaming giant Activision Publishing Inc. about how its likeness would be used in the video game "Band Hero," a judge ruled Tuesday.
The ruling by California Superior Court Judge Ramona See rejected a motion by Activision's attorneys to dismiss several claims from the case, including fraud, violation of publicity rights and breach of contract. Judge See determined there were genuine disputes about evidence that a jury should consider.
No Doubt sued the Santa Monica, Calif.-based video game company in November 2009, claiming the band was never told that players would be able to unlock avatars of the band to perform other artists' music.
The case cited instances in which players could use singer Gwen Stefani to perform suggestive lyrics from the Rolling Stones' hit "Honky Tonk Women," or have a virtual version of bassist Tony Kanal sing his band's hit "Just a Girl," but with Ms. Stefani's voice.
The lawsuit claims the feature turns the band "into a virtual karaoke circus act."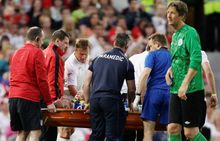 Judge See rejected one of the band's claims that sought an injunction barring Activision from using band members' likenesses to perform other artists' work.
Activision claims the idea of "unlocking" unadvertised features of a video game has been around since the early days of the industry and the company did nothing wrong.
Attorneys expect the case will go to trial later this year.
Jeffery McFarland, who represents Activision, said the company has a strong defense and is looking forward to presenting it during trial. During the hearing, he said the company had a video recording of the band being told about the game's unlockable features.
The band's attorney, Bert Deixler, said the ruling "seemed inevitable" and noted No Doubt has repeatedly won the right to pursue the case, in both state and appellate courts.
Will Ferrell, Gordon Ramsay injured in charity soccer match
What was supposed to be a carefree soccer game benefiting UNICEF on Sunday turned into a rougher day than anticipated for Gordon Ramsay and Will Ferrell.
The all-star Soccer Aid match, held at Manchester United's Old Trafford, started off on the right foot with a lineup of top international celebrities. The English team included Robbie Williams, Mark Owen, Aston Merrygold, Olly Murs and Marvin Humes; the Rest of the World team included Mr. Ramsay, Mr. Ferrell, Mike Myers, Gerard Butler, Edward Norton, James McAvoy, Woody Harrelson and Michael Sheen.
But after a tackle by former pro player Teddy Sheringham, Mr. Ramsey, 45, had to be lifted off the field in a stretcher.
"Thx 4 all the messages. Out of hospital after receiving amazing care from medics at ground & hospital. Bit sore but fine," the usually foul-mouthed "Hell's Kitchen" chef wrote Monday on Twitter.