More than 9,000 Chuck Brown fans flocked to the Washington Convention Center for the musician's memorial service Thursday to pay tribute to the man whose music has provided the District a party soundtrack for decades.
Some of the majority black crowd wore slick suits or church hats while others donned shorts and T-shirts emblazoned with Brown's image and his honorific title - the godfather of go-go. Many said they took off work in order to attend the nearly four-hour-long service, which featured performances by local musicians and eulogies by the District's top politicians.
Marvin Hart, a 49-year-old computer analyst from Burtonsville, came with his best friend to pay tribute to the musician who has kept him dancing for decades.
"I told them I'm taking off for the godfather! That's all they need to know," Mr. Hart said.
Brown, who pioneered the funk-derived music genre called go-go, died May 16 at age 75 after falling ill in March.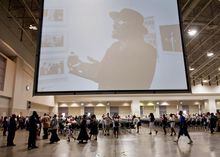 Thursday's service felt like a family reunion staged at a concert as old friends reunited and hugged in the crowd and others rose from their chairs to dance and cheer as musicians took to the stage to perform either songs composed by Brown or songs infused with a go-go beat.
Outside the massive downtown convention center, which had prepared for a crowd as large as 14,500, vendors hawked Chuck Brown posters, freshly embroidered T-shirts, and commemorative badges. Inside, longtime fans reminisced fondly over the memories Brown's music evoked.
"I was too young to go to the boat parties when he first started playing," said Rene Ragland, adding that her Southeast neighborhood grew up on Brown's infectious go-go rhythms.
But later, when Brown began playing the clubs like the Maverick Room, Ms. Ragland said she found ways to sneak into his shows to see him perform.
"In the beginning it was more about him because he had a sense of togetherness. Wherever he was, there was no fighting. It was just love," Ms. Ragland said.
Bo Sampson, a D.C. promoter, recalled how he and Mr. Hart used to write their names on pieces of paper and pass them up to the stage at Brown's show in order to hear him read them aloud on stage and weave them into his songs.
"It was like a roll call," Mr. Sampson said. "We'd be like 'Wow, he said my name' and then he'd make a rhyme to go with it."
D.C. politicians proposed various tributes to Brown at the service. Mayor Vincent C. Gray announced that a park would be named in Brown's honor while Delegate Eleanor Holmes Norton declared Brown's birthday, Aug. 22, to be national Chuck Brown Day.
"America knew the nation's capital but could not tell the difference between official Washington and hometown D.C. Then came the godfather, 'Bustin' Loose,' and he busted D.C. loose, too," Ms. Norton said, making mention of Brown's 1978 hit.
Not to be outdone, D.C. Council Chairman Kwame R. Brown proposed the creation of a go-go hall of fame.