PITTSBURGH — Henry Rodriguez knows what it's like to surrender a home run. But it's not a feeling he's all that familiar with. His stuff, as good as it is, makes it difficult for hitters to generate solid contact.
Before he met Pittsburgh Pirates catcher Rod Barajas in the ninth inning Tuesday night at PNC Park, only three times in his career had Rodriguez experienced the sinking feeling that comes with watching a batter clobber one of his pitches over the fence.
But when a hitter connects, when they cheat on the fastball as Wilson Ramos and Rodriguez felt Barajas did, the ball can leave the park with almost as much velocity as it was delivered with. In the Nationals' 5-4 walk-off loss to the Pirates, the feeling came rushing back to Rodriguez.
"It's pretty tough," Ramos said. "We're winning, we're getting a little bit excited. But we have to play nine innings, you know? We have to finish the game. A lot of things can happen."
Rodriguez's first pitch to Barajas, after throwing two wild pitches, sliders, to the previous batter, was 96 mph, up and in. As soon as Barajas connected, Rodriguez turned toward the left field foul pole. Then he slumped his shoulders and began to walk off the field. Moments after Adam LaRoche had given Rodriguez a one-run lead to protect with a two-run homer in the top of the ninth off Pirates closer Joel Hanrahan, Rodriguez had given it all back in stunning fashion.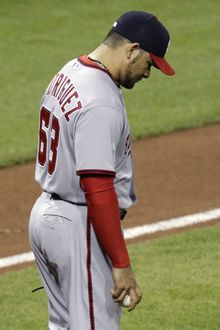 The Nationals, who are 8-0 in one-run games at Nationals Park, lost their sixth such contest on the road and fell to 18-11 on the season. They are 9-6 in one-run games.
"I feel terrible for Henry," LaRoche said after the game, the right oblique that appeared to give him no trouble in his first game since Wednesday wrapped in ice. "I don't know. It's pretty good if a guy can turn around that fastball."
That fastball, of course, is a pitch he can routinely throw in triple digits but often is more lethal when he throws it 97-99 mph with good location and movement. However, the breaking ball wasn't working for Rodriguez. He surrendered a sinking one-out single to center to Alex Presley and watched Presley dart all the way to third base on two separate wild pitches to Yamaico Navarro.
So Barajas stepped in and knew what was coming. The tying run 90 feet away? No way it was going to be anything but heat.
"In that situation … we have to call fastball," Ramos, who also homered in the game, said. "For me, [Barajas] is cheating. He's cheating to the fastball. [Rodriguez] threw that pitch right down the middle and he hit it pretty good. Sometimes, when the pitchers throw too hard, the hitters don't have to swing too hard, just put the ball in play and it is jumping."
"Definitely, he was looking for the fastball," Rodriguez said, translated by catcher Jesus Flores. "[I] wanted to challenge him inside. He was lucky. He got it in front."
There have been plenty of nights this season where the Nationals have been reminded of who their injured players are, of what they're missing without them. Usually, though, those reminders have come offensively, when a scoring chance has been squandered and Ryan Zimmerman, LaRoche and Michael Morse were all hurt.
Tuesday night, though, the person whose loss was most glaring was that of closer Drew Storen, who saved 43 games last year. The Nationals have been trying to get by without their stopper, out after surgery to remove a bone chip from his right elbow, since the start of the season. Brad Lidge struggled, and then underwent his own surgery. Rodriguez had six saves and just one blown save.
"Henry's been pretty good all year long," said Nationals manager Davey Johnson, assuming that Rodriguez was trying to be too perfect with his pitches, an assumption Rodriguez later confirmed. "He gave up the one that beat us, but he'll be back and he'll be fine."
Looking back, Rodriguez lamented the pitch sequencing, rather than selection, he utilized. He regretted not using his slider enough and brushed aside any concerns about the pressure affecting him. "[My] fastball is good enough," he said.