NEW YORK — Maurice Sendak didn't think of himself as a children's author, but as an author who told the truth about childhood.
"I like interesting people and kids are really interesting people," he explained to The Associated Press last fall. "And if you didn't paint them in little blue, pink and yellow, it's even more interesting."
Sendak, who died early Tuesday in Danbury, Conn., at age 83, four days after suffering a stroke, revolutionized children's books and how we think about childhood simply by leaving in what so many writers before had excluded. Dick and Jane were no match for his naughty Max. His kids misbehaved and didn't regret it, and in their dreams and nightmares fled to the most unimaginable places. Monstrous creatures were devised from his studio, but none more frightening than the grownups in his stories or the cloud of the Holocaust that darkened his every page.
"From their earliest years children live on familiar terms with disrupting emotions — fear and anxiety are an intrinsic part of their everyday lives, they continually cope with frustrations as best they can," he said upon receiving the Caldecott Medal in 1964 for "Where the Wild Things Are," his signature book. "And it is through fantasy that children achieve catharsis. It is the best means they have for taming wild things."
Rarely was a man so uninterested in being loved or adored. Starting with the Caldecott, the great parade marched on and on. He received the Hans Christian Andersen award in 1970 and a Laura Ingalls Wilder medal in 1983. President Bill Clinton awarded Sendak a National Medal of the Arts in 1996 and in 2009 President Obama read "Where the Wild Things Are" for the Easter Egg Roll.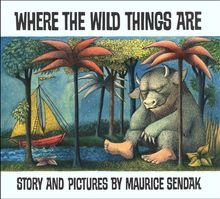 Communities attempted to ban him, but his books sold millions of copies and his curmudgeonly persona became as much a part of his legend as "Where the Wild Things Are," which became a hit movie in 2009. He seemed to act out everyone's fantasy of a nasty old man with a hidden and generous heart. No one granted the privilege could forget his snarly smile, his raspy, unprintable and adorable dismissals of such modern piffle as e-books and publicity tours, his misleading insistence that his life didn't matter.
"I didn't sleep with famous people or movie stars or anything like that. It's a common story: Brooklyn boy grows up and succeeds in his profession, period," he told the AP.
Sendak's other books, standard volumes in so many children's bedrooms, included "Chicken Soup With Rice," "One was Johnny," "Pierre," "Outside Over There" and "Brundibar," a folk tale about two children who need to earn enough money to buy milk for their sick mother.
"This is the closest thing to a perfect child I've ever had," he told the AP.
Besides illustrating his own work, he also provided drawings — sometimes sweet, sometimes nasty — for Else Holmelund Minarik's series "Little Bear," George MacDonald's "The Light Princess" and adaptations of E.T.A. Hoffman's "The Nutcracker" and the Brothers Grimm's "King Grisly-Beard." His most recent book that he wrote and illustrated was "Bumble-Ardy," a naughty pig party which came out in 2011, based on an old animated skit he worked up for "Sesame Street."
In recent months, he had said he was working on a project about noses and he endorsed — against his best judgment — Stephen Colbert's "I am a Pole (And So Can You!)", a children's story calculated to offend the master. Colbert's book was published Tuesday.
"His art gave us a fantastical but unromanticized reminder of what childhood truly felt like," Colbert said in a statement. "We are all honored to have been briefly invited into his world."
Sendak also created costumes for ballets and staged operas, including the Czech opera "Brundibar," which in 2003 he put on paper with his close friend, Pulitzer-winning playwright Tony Kushner. He designed sets for several productions at New York City Opera and he wrote the libretto for composer Oliver Knussen's opera adaptation of "Where the Wild Things Are," which premiered at Brussels' Theatre de la Monnaie in 1980 as "Max et les Maximontres." A revised final version debuted in 1984 in London.
He designed the Pacific Northwest Ballet's "Nutcracker" production that later became a movie shown on television, and he served as producer of various animated TV series based on his illustrations, including "Seven Little Monsters," "George and Martha" and "Little Bear." He collaborated with Carole King on the musical "Really Rosie."
None of Sendak's books were memoirs, but all were personal, if only for their celebrations of disobedience and intimations of fear and death and dislocation, sketched in haunting, Blakean waves of pen and ink. "It's a Jewish way of getting through life," Kushner said last fall. "You acknowledge what is spectacular and beautiful and also you don't close your eyes to the pain and the difficulty."