One of the companies that has emerged as a potential buyer for a troubled local health plan that covers many D.C. Medicaid recipients settled a $2 million fraud lawsuit filed by Kentucky state officials last year.
AmeriHealth Mercy Health Plan settled the suit with the Kentucky Office of the Attorney General without admitting any wrongdoing. The company has emerged as a potential buyer of D.C. Chartered Health Plan, the city's biggest Medicaid contractor.
D.C. Chartered has had its own problems lately. It reported losing more than $14 million last year and its owner, Jeffrey E. Thompson, recently resigned as chairman after a raid on his office and home by federal agents looking into political fundraising activities in city government. The company is scrambling to find a buyer so it can continue doing business with the District.
One potential buyer, AmeriHealth Mercy, settled a civil complaint filed by Kentucky regulators accusing the company of filing false reports while it was a third-party administrator for Passport Health Plan, the managed care organization for about 170,000 members in 16 Kentucky counties.
In a news release announcing the settlement last year, Kentucky Attorney General Jack Conway said the investigation centered on an allegation that AmeriHealth Mercy reported false information about cervical cancer screening. In turn, the information helped the company to win $677,000 in bonus payments, records show.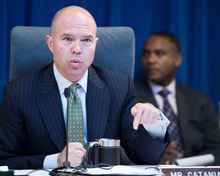 A spokeswoman for AmeriHealth Mercy, which is based in Pennsylvania, declined to comment on the Kentucky settlement or possible plans by the company to purchase D.C. Chartered.
"While AmeriHealth Mercy Family of Companies always monitors the market and regularly evaluates opportunities to prudently expand our business, we do not comment on rumors or speculation," spokeswoman Michelle Davidson wrote in an email. "We cannot comment further."
She referred to previous statements company officials made about the settlement in a report last year by the Lexington Herald-Leader newspaper.
"Our agreement to a settlement, as the consent judgment states, does not in any way constitute an admission of wrongdoing and [AmeriHealth Mercy] denies any intent to misrepresent data," the company said, adding that those involved in altering data were no longer employed by the company.
"We enter into this settlement in order to expeditiously resolve this dispute and to avoid the delay, expense and inconvenience of protracted litigation."
AmeriHealth Mercy's name surfaced publicly Tuesday as a potential buyer of D.C. Chartered in a story by The Washington Post, though city officials gave no indication they had any concerns about, or were aware of, the company's problems in Kentucky.
D.C. Council member David A. Catania, at-large independent, who chairs the council's Health Committee, was quoted in The Post as saying AmeriHealth had a "stellar reputation," adding that he was not involved in meeting with potential buyers.
"The council member has said that he is staying out of the solicitation process," Catania spokesman Brendan Williams-Kief told The Washington Times on Tuesday. "Part of that process would include disclosing information relating to past performance.
"Council member Catania's priority is that the District gets a reputable health insurance company that can actually build a network of high quality physicians and actually manage the care of our patients."
Karen Dale, a spokeswoman for D.C. Chartered, declined to comment, saying the Kentucky settlement is an AmeriHealth Mercy matter. Officials at the D.C. Department of Heath Care Finance were not available for comment by press time Tuesday.