It may not be the sexiest chess pairing of all time, but we have a legitimate world championship match on tap and one that could prove more entertaining than some anticipate.
Opening ceremonies will be held Thursday at Moscow's Tretyakov Gallery for the 12-game, three-week FIDE world title match between champion Viswanathan Anand of India and Russian-born challenger GM Boris Gelfand, based in Israel. Game 1 will be played Friday, with play concluding May 28.
If the score is tied after 12 games, the players will play a four-game rapid playoff (Game/25) on May 30.
Gelfand, who leapfrogged several higher-ranked players to qualify for the finals, is a distinct underdog, but he is a hard man to beat, and his career record against the champ at classical time controls is a respectable five wins against six losses, with 16 draws. (Anand has dominated the challenger at faster time controls.)
We'll also be keeping tabs on the U.S. men's and women's national championship tournaments, which start Tuesday in St. Louis. The format returns to the classic 12-player round robin, and on the men's side, defending champion Gata Kamsky will be tested by such strong rivals as GMs Hikaru Nakamura, Alex Onischuk, Robert Hess and Yasser Seirawan.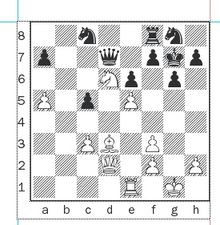 –
New York GM Tamaz Gelashvili won last month's 2012 Maryland Open, defeating New Jersey IM Nikoloz Managadze in the fifth and final round to finish alone in first at 4 1/2- 1/2. Potomac GM Larry Kaufman picked up another Maryland state champion title by holding the best tiebreaks of the four Free Staters who shared second place. Tying Kaufman at 4-1 were FM Shelby Getz, master Jared Defibaugh, and IM Tegshsure Enkhbat, who upset New York GM Mikheil Kekelidze in the final round.
The new Maryland Amateur champion is also a familiar face - Class A player Bruce Till, who won the title in 1989, 2002 and 2003, went a perfect 5-0 in the Under-2000 section, finishing a half-point clear of the District's Zachary Clare. Congratulations to all.
In his title-clinching game against New York Class A player Mykyta Panasenko, Till plays the Black side of a Classical King's Indian to near perfection. White's queen-side push comes to nothing, and Panasenko can do nothing but brace himself as Black builds up his king-side counterattack, sacrificing a pawn to open lines to the White king.
With the tournament riding on the outcome, both sides feel the pressure: 28. Nd3 h3?! (giving White fresh hope, as the straightforward 28. … Nxd3 29. Nxd3 Bh6!, threatening 30. … Bf4, looks decisive) 29. Nxf4 Rxf4, when 30 Nd1! Rh4 31. Kg1 Bh6 32. Qc7! poses real defensive problems for the second player. If now 32. … Bf4, White has 33. Qd8+ Kg7 34. Rc2! Qh2+ 35. Kf2 Qg3+ 36. Ke2 hxg2 37. Rc7+ Bd7!! (Kg6?? 38. Qxd6+ Kg5 39. Rg7+ and White mates quickly) 38. Qxd7+ Kh8 39. Rc8+ Rxc8 40. Qxc8+ Kg7 41. Qd7+, with a draw by perpetual check.
But on the game's 30. Ra1? Bg4! 31. Rc1 Raf8, the pressure on White's f3 and g2 pawns quickly becomes unbearable: 32. Kg1 Bxf3! 33. Ne2 (Rxf3 Rxf3 34. Ne2 [Qe2 Rf2] Rxf1+ 35. Rxf1 Qxg2 mate) h2+ 34. Kh1 Qxf2 35. gxf3 Rh4 36. Bg2 Rxf3! 37. Nc3 Bh6, when Till noted that 38. Bxf3 loses to 38. … Qxf3+ 39. Qg2+ Qxg2+ 40. Kxg2 Bxc1.
The finale: 38. Qxf2 Rxf2 39. Rb1 Rg4 40. Bh3 Rg3 41. Be6+ Kh8 42. b4, and White resigned before Black could administer 42. … Bf4 43. Bc8 Rfg2, with mate inevitable.
–
One tournament we always like to keep an eye on is the Georgia women's national championship, given that great female champions such as Maya Chiburdanidze and Nona Gaprindashvili hail from the small nation on the Black Sea. This year's edition, which concludes Wednesday in the picturesque town of Anaklia, already has produced a beauty of a game in IM Sofio Gvetadze's upset of WGM Nina Batsiashvili.
Against Black's Modern Defense, White violently exploits the awkward placing of Black's pieces in the game's crucial skirmish: 22. Rab1 Qe7?! (a wasted move as the queen is just as vulnerable on this square; tougher was 22. … Ne7 23. Red1 Nec8) 23. a5! Nc8 (Nd5 24. Rb7 Rd7 25. Reb1 Rxb7 [Rfd8 26. Be4, and Black's position is under siege] 26. Rxb7 Qh4 27. Rxa7 Nf4 28. a6 Qg5+ 29. Kf1 Qg2+ 30. Ke1 Qxf3 31. Be4 Qg4 32. Qe3, and White's passed a-pawn should decide matters) 24. Rb7 Rd7 25. Rxd7 Qxd7 (see diagram) 26. Bxg6!!, a brave shot as the bishop can be taken three different ways.