Tea-party-backed candidate Richard Mourdock defeated longtime Sen. Richard G. Lugar of Indiana in Tuesday's GOP primary, ending the career of one of the chamber's two senior Republicans and giving Democrats a better chance at capturing the seat in November.
The race was widely seen as a key test of tea party anger against incumbents two years after that same sentiment disrupted a number of Republican races and powered insurgent candidates to wins across the country.
Already, a challenger in Utah said the race is a model for his bid to unseat Sen. Orrin G. Hatch, another veteran senator under fire for his record of trying to work with Democrats in the Senate.
Democrats saw Mr. Lugar's defeat as an unexpected opportunity. Polls show their candidate, Rep. Joe Donnelly, would have lost to Mr. Lugar, but is running neck-and-neck with Mr. Mourdock.
Mr. Mourdock assured supporters that he's ready to take on Mr. Donnelly and said he was grateful to hear earlier that evening from Sen. John Cornyn, Texas Republican and chairman of the National Republican Senatorial Committee, that the national party is committed to his race.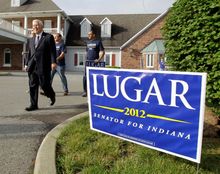 "Mr. Donnelly has been close to Mr. Obama for the last several years," he told his supporters Tuesday night. "We're going to make that clear, and it's not going to be accepted by the voters of Indiana."
The race was called soon after polls closed at 7 p.m., underscoring the ease of Mr. Mourdock's victory over Mr. Lugar, who entered the Senate in 1977. In early returns, Mr. Mourdock led 60 percent to 40 percent.
Mr. Lugar's desperation showed over the past week when he resorted to pleading for voters of all stripes — even Democrats — to support him in the state's open primary.
"I'm appealing to all of the people of Indiana — I emphasize all — to ask for a Republican ballot today and to vote for me," Mr. Lugar told CNN's "Starting Point" as polls opened Tuesday.
After Tuesday's results became clear, President Obama issued a statement on the career of his former Senate colleague.
"Sen. Lugar comes from a tradition of strong, bipartisan leadership on national security that helped us prevail in the Cold War and sustain American leadership ever since," Mr. Obama said. "He has served his constituents and his country well, and I wish him all the best in his future endeavors."
Dark clouds had been gathering over Mr. Lugar for months after tea party groups made the elder statesman, a moderate Republican, their chief congressional target this year.
The GOP primary quickly turned into a nationally scrutinized showdown as the Club for Growth and other Mourdock supporters poured some $3 million into ads lambasting Mr. Lugar for voting for the automakers bailout and tax hikes over his six terms, while groups supporting Mr. Lugar spent half that.
Mr. Mourdock pounded his core message that the 80-year-old senator had turned into a Washington insider, slamming him for living away from Indiana for years, highlighting Mr. Lugar's congenial relationship with Mr. Obama and criticizing the senator for voting to confirm Mr. Obama's liberal Supreme Court nominees.
Suddenly, Mr. Lugar found himself struggling to defend things he once touted as accomplishments; among them, working with Democrats on foreign policy and earning the title of one of the two longest-serving Republicans in the Senate. Mr. Lugar and Mr. Hatch were both first elected in 1976.