✔ Pick of the Pack
Theater: 'You for Me for You'
We know very little — including the real birth date — about Kim Jong-un, the mysterious son of Kim Jong-il, who became the supreme leader of North Korea following his father's death in December 2011. We do know, however, that the country remains a communist state with a starving population and a nuclear weapons program that threatens the region. On Monday, the Woolly Mammoth Theatre Cmpany will premiere Korean-American playwright Mia Chung's play exploring life inside the totalitarian nation and what people will do to escape it. In the play, which contains elements of comedy and fantasy to tell an important story, two sisters, Yuna and Minjee, attempt to flee North Korea to the United States, but Minjee is too sick to make the dangerous trip. Will Yuna be able to rescue her sister before it's too late? During the play's run, the theater also will host an exhibit by Korean artist Song Byeok, who served as the official state propaganda artist of North Korea before he was tortured by the same regime for attempting to go to China to find food for his starving family.
Through Dec. 2 at the Woolly Mammoth Theatre Company, 641 D St. NW
Phone: 202/393-3939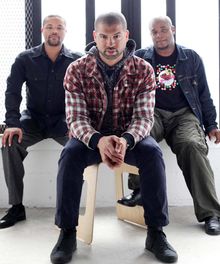 Concert: Election Night Jam with Jason Moran & the Bandwagon
Why spend election night listening to talking heads dissect the exit polls when you could be listening to the much more pleasant sounds of jazz? The Kennedy Center will host a free concert at 6 p.m. Tuesday featuring Jason Moran & the Bandwagon, an acclaimed contemporary jazz trio featuring Mr. Moran on the piano, Tarus Mateen on bass and Nasheet Waits on the drums. Mr. Moran, who has been playing the piano since age 6, also serves as an artistic adviser for jazz at the Kennedy Center and music educator across the country. If you want to keep up with the electoral vote count, you can view the results on large-screen monitors throughout the Kennedy Center's Grand Foyer. If you don't, you can catch the 7:30 p.m. performance of "War Horse," the Broadway World War I drama that won five Tony Awards in 2011, including best play.
Tuesday at the John F. Kennedy Center for the Performing Arts, 2700 F St. NW
Phone: 202/467-4600
Party: Election Night 'Tally the Vote' Party
We all may not agree on politics, but let's hope we can come together to enjoy good food. Lincoln, the Thomas Circle restaurant known for seasonal small plates and cocktails, will host an election-night party with themed cocktails and a dinner menu inspired by the two candidates' favorite foods. Mitt Romney fans can taste meatloaf with pomme puree and tomato jam or pretzel-crusted crab reminiscent of summers in New England, while Barack Obama's devotees can try Hawaiian-inspired pork belly with spiced pineapple mostrada or Michelle Obama-approved Lomi salmon risotto with scallions, onions and arugula, among other options. The restaurant will have 50-inch flat-screen televisions in the private dining areas so you won't miss any returns — though you should take time to look down at the copper-penny floor for a glimpse of one past president we all can agree was a great one.
Tuesday at Lincoln, 1110 Vermont Ave. NW
Phone: 202/386-9200