JACKSONVILLE, Fla. (AP) — The men's basketball game between No. 10 Florida and Georgetown on the deck of a ship was called off at halftime Friday night because the court became too wet.
Florida led 27-23 at the break in the Navy-Marine Corps Classic when the matchup aboard the USS Bataan was stopped by the court condensation. The game will not count and will not be made up.
"It was all about student-athlete welfare," said Alan Verlander, the director of sports and entertainment for the city of Jacksonville. "We did not want to affect anyone's season if someone went down. It's an unfortunate situation, but it was still a spectacular event.
"We've got to go back to work and maybe become meteorologists and do some things different. We and the Navy are committed to the event and doing it right."
Earlier in the evening, the men's game between No. 4 Ohio State and Marquette on the USS Yorktown in South Carolina was canceled before it began for the same reason.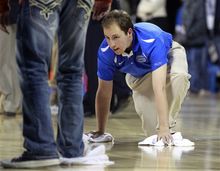 The cancellations aboard the ships cast doubt on whether these outdoor games will continue in the future. The Yorktown, however, did host a women's game late Friday afternoon, with No. 7 Notre Dame beating No. 19 Ohio State 57-51 without any problems on the court.
Florida and Georgetown players warmed up after intermission and volunteers mopped the court with towels, but the nighttime humidity near the Intracoastal Waterway caused too much wetness.
"Time of day is something we'll examine," Verlander said.
Georgetown coach John Thompson III and Florida coach Billy Donovan expressed concerns about court condensation Thursday.
But officials left the tarp off the playing surface Wednesday night and reported no problems, easing some apprehension. But temperatures warmed Friday, causing changes in the dew point.
"This is very disappointing," Donovan said. "The floor is just too wet and we don't want anyone getting hurt."
Players experienced no issues in the first half. Florida's Mike Rosario had the only noticeable slip, and that could have been caused by drops of sweat.
"I never noticed anything in the first half," Florida forward Erik Murphy said. "I never slipped. I noticed a couple times when play was stopped kids drying the court, but I didn't think anything of it. When we came out for warm-ups, it still seemed OK, but if you look at the floor now, they made the right decision."
The floor was a mess when officials finally called it following a 15-minute delay coming out of the break. Players, coaches and even the referees tried to no avail to dry the surface.
"It's just tough around this time, the weather," Florida guard Kenny Boynton said. "I'm not sure what caused the water, but it's definitely tough. We've got to get an indoor event, I guess."