CLEMSON, S.C. — Dexter McDougle's unexpected odyssey around Memorial Stadium took him from the goal line to one sideline and then the other, a Clemson missed field goal the impetus for the junior cornerback's way-too-long run.
The statistics credited McDougle with a 74-yard return. He probably covered about double that in perhaps Maryland's most memorable moment of Saturday's 45-10 loss.
"Gassed isn't even the word to describe it," McDougle said. "It was like the field would never end. I was just running and just running and just running and it was like 'Please, let me get to this end zone.'"
He didn't, of course, and the Terrapins (4-6, 2-4 ACC) found their way there just once on the day against the one-loss Tigers. But McDougle was determined to make something of his cross-field journey even when it became clear he wouldn't score a touchdown, lateraling at the last moment to teammate Anthony Nixon.
In one play, McDougle symbolized much about this Maryland bunch, from the steep challenges facing it to a consistent resilience to a harsh reality that even its best probably won't be enough to extend the season beyond Thanksgiving weekend.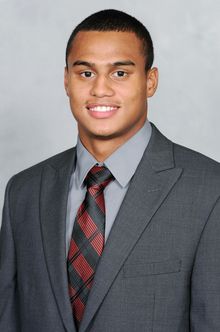 But if Maryland is going down, and it has dropped four in a row and faces No. 10 Florida State (9-1, 6-1) on Saturday, it is offering as much resistance as it can.
"I was like, 'Please, someone, just score this,'" McDougle said. "I was like 'I can do it, I can do it – ah, I can't do it right now.' I ran out of gas. I ran like 200 yards or something so I was trying to get it to the next guy to make a play."
As McDougle's return of a short 55-yard attempt from Spencer Benton demonstrated, the Terps are having as much fun as they can when opportunities present themselves.
"That play was a blast," linebacker Cole Farrand said. "I didn't even know he was going to return it. I turn around and look to see if the field goal is going in and I see McDougle catch it and he's in the end zone and I'm like, 'He's not going to return this,' and he takes it out and I see guys just running down the field throwing blocks and knocking people off their feet and I was like, 'I've got to get into this.'"
The entire defense seemed to share Farrand's attitude, and it is noteworthy on a few levels. A year ago, Maryland listlessly moved through the final month of a clearly lost season. It scored 24 second-half points in its final four games, and its sieve-like defense was gashed repeatedly.
Even if Clemson rolled up 436 yards, its opponent was far from disinterested. Never was it more evident than during McDougle's return, which happened when Maryland trailed 38-7.
Saturday was daunting from the start, with ailing ankles sidelining tailback Wes Brown and receiver Stefon Diggs. Maryland was also without four quarterbacks lost to season-ending injuries and linebacker and leading tackler Demetrius Hartsfield (ACL tear).
The score predictably reflected the talent drain and the need to lean on linebacker-turned-quarterback Shawn Petty as an emergency starter. Still, the Terps insist there is still hope, still a chance to collect a surprise bowl bid with two upsets to close the season.
"Every week it seems like something new is happening to us, like the Maryland curse isn't going away," Farrand said. "But everybody's still into it, everybody's still full bore, nobody's giving up and everybody's still trying their hardest. We know we are downsized at the quarterback position a lot, but we all believe in Petty and we think he's doing really well. We couldn't ask for any more from him."
Nor could they have expected much else from McDougle on his zigzag across Death Valley. The field goal it would lead to ultimately didn't matter. What the run represented, though, means plenty to a group unwilling to yield despite an obviously daunting situation.