An angry President Obama on Wednesday demanded his congressional critics "go after me" rather than snipe at his top aides, after two top Republican senators said U.N. Ambassador Susan E. Rice's inaccurate account of the cause of the terrorist attacks in Benghazi makes her unfit to be promoted.
In his first formal news conference in eight months Mr. Obama defended his handling of the Sept. 11 terrorist attack on the U.S. Consulate in Libya's second-largest city, and also said he would not allow to go unchallenged any attacks by Republicans looking to place blame for the situation.
"If Sen. McCain and Sen. Graham and others want to go after somebody, they should go after me," Mr. Obama said. "And I'm happy to have that discussion with them. But for them to go after the U.N. ambassador, who had nothing to do with Benghazi and was simply making a presentation based on intelligence that she had received and to besmirch her reputation is outrageous."
Two hours before his news conference, Republican Sens. John McCain of Arizona and Lindsey Graham of South Carolina said they would try to block Mrs. Rice should the president nominate her to succeed Secretary of State Hillary Rodham Clinton, who is expected to step down.
Mr. McCain said Mrs. Rice didn't comport herself well when she went on five Sunday political talk shows after the Benghazi attack and said the incident was the result of a mob protest against an anti-Islamic video. Mr. Graham said Mrs. Rice also has failed to impress him with her handling of China and Russia during tough negotiations at the United Nations.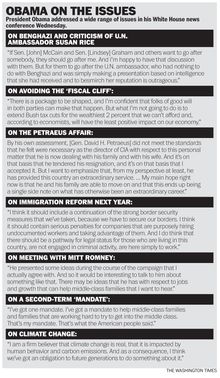 After Mr. Obama lashed out at him, Mr. Graham retorted that he does blame Mr. Obama, and he and Mr. McCain formally introduced a resolution calling for a special select committee to investigate Benghazi, saying there are still too many unresolved questions.
Mr. Graham repeated his warning against nominating Mrs. Rice.
"He'll have one hell of a fight. And that'd be his choosing. I don't want a fight. But I got a conscience, too, and a pretty good record, I think, of being deferential to the president when it comes to his picks, but I do have a firm resolve here that I don't trust her," he told reporters. "I think she misled us or was grossly incompetent. Why'd they pick her to begin with? She's got nothing to do with consulate security. I think she was a political pick. I think she played a political role."
The pointed exchange highlights what could be a bumpy road in the second term for some of Mr. Obama's potential nominees, because so many of the departments or agencies that played a role in the Benghazi incident could face vacancies in their top posts.
Mrs. Clinton has said she would be leaving the State Department, although congressional inquiries into the Benghazi attack have put a crimp in any plans to exit immediately. With Defense Secretary Leon E. Panetta refusing to indicate whether he will leave or stay put, the president also may have to fill the Pentagon's top civilian job.
Although not a Cabinet member, CIA Director David H. Petraeus left that key national security post open as well with his surprise resignation and admission last week of an extramarital affair.
In addition, Attorney General Eric H. Holder Jr., who has faced the most scrutiny of any Cabinet member because of the Justice Department's ill-fated Fast and Furious gunwalking scandal and his attempt to try several terrorism suspects in civilian courts, likely will move to the private sector early in Mr. Obama's second term.
The Justice Department's supervisory role of the unusual FBI investigation into Mr. Petraeus' personal life and the FBI's failure to inform the president of its probe until months after it had begun will complicate the confirmation process of any Holder successor.
Bristling over Republican attempts to influence his nominations process, Mr. Obama said Ms. Rice had done "exemplary work" as U.N. ambassador and said Mr. McCain and Mr. Graham now have "a problem with me" for taking her to task.
But Mr. Obama also made clear he wasn't going to announce any more nominations at this point, and he said he hasn't decided whether to nominate Mrs. Rice.