Adam Levine spans music and television with his leading six nominations for the People's Choice Awards.
The Maroon 5 frontman and mentor on TV's "The Voice" is up for favorite band, song, album and music video, along with favorite celebrity judge and favorite competition TV show.
Nominations were announced Thursday at the Paley Center for Media in Beverly Hills, Calif.
Justin Bieber has five nods, followed by the newly crowned "Sexiest Man Alive" Channing Tatum with four. "Glee" was the most-nominated TV show with five, and "The Avengers" leads movie nominees with eight.
Fans chose the nominees by voting online and can do the same to select the winners. Voting in 48 categories continues through Dec. 13.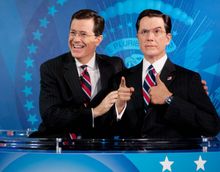 The People's Choice Awards will be presented Jan. 9 and broadcast on CBS.
Colbert wax figure featured at D.C. Madame Tussauds
Stephen Colbert has taken his place among the presidents at the Madame Tussauds wax museum in Washington and will be featured in a new media gallery.
Mr. Colbert visited the museum Friday to unveil a new wax figure created to represent him. The museum said Mr. Colbert donated his own clothes to dress the figure in a suit, tie, cuff links and lapel pin.
The new figure will be the centerpiece of a new media gallery with a replica of "The Colbert Report" set where guests can sit next to Mr. Colbert's figure behind his fake news desk.
Designers from Madame Tussauds went to Mr. Colbert's New York studio in June to take more than 250 measurements and photographs of the Comedy Central star to create the wax figure.
Univision collecting stories for immigrant archive
The Spanish-language media company Univision and one of its top advertisers are encouraging Hispanics to share their stories about establishing new lives in the United States for an immigrant archive.
The Univision network kicked off the effort, called Generacion America, during Thursday's telecast of the Latin Grammy Awards.
Univision and its affiliated networks will help collect stories from celebrities and average citizens to be part of the Immigrant Archive Project, an independent effort to collect the stories, and show snippets of them on TV. Advertiser Procter & Gamble is helping to fund the effort, although neither company would say how much is being spent.