JERUSALEM — Diplomats scrambled Monday to cobble together a cease-fire in the 6-day-old conflict between Israel and Palestinian militants in the Gaza Strip, as both sides continued to pound each other with deadly airstrikes and rockets.
An Israeli warplane killed at least one senior Palestinian militant and wounded others in a missile strike on a media building in Gaza City as Hamas fired 75 rockets into Israel, where its Iron Dome anti-missile system shot down 20 of them. One hit an empty school, and the others caused no reported injuries.
Later in the day, the Israeli government convened a Cabinet meeting to discuss a proposal presented by Egypt, which has been mediating indirect talks between Israeli and Palestinian officials.
President Obama talked by phone with Egyptian President Mohammed Morsi and Israeli Prime Minister Benjamin Netanyahu.
Speaking from Cambodia, where he is attending a summit of Asian and Pacific leaders, Mr. Obama emphasized the need for Hamas militants in Gaza to stop firing rockets into Israeli towns and cities, the White House said. He also discussed ways to de-escalate the violence and expressed regret for the deaths on both sides of the conflict.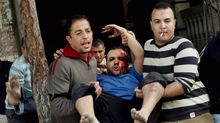 U.N. Secretary-General Ban Ki-moon arrived in the region for talks with Israeli and Palestinian officials, and Turkish Foreign Minister Ahmet Davutoglu and a delegation of Arab foreign ministers are due in Gaza on Tuesday.
"Negotiations continue, and I hope that soon we will put a stop to the mutual violence," said Egyptian Prime Minister Hesham Qandil in Cairo, where the indirect talks are being held. "I think we are close."
Dispute among Palestinians
Despite Mr. Qandil's upbeat tone, sources close to the talks said considerable differences remain, not just between the Palestinians and Israelis but also within the Palestinian camp — between Hamas, the dominant force in Gaza, and the Iranian-backed Islamic Jihad, the most militant.
Islamic Jihad leaders accused Hamas of bowing too easily to Israeli demands.
"Israel wants quiet, and Egypt wants quiet," a senior Islamic Jihad leader, Ziad Alnakhala, told the London-based newspaper Al Khayat. "Hamas is willing to surrender to the dictates of Israel."
A senior Hamas official, Ramzi Hamad, said Hamas and Israel had agreed on 90 percent of a cease-fire arrangement.
An unidentified Israeli negotiator is in Cairo presenting the Israeli position through Egyptian intelligence officers because Israel and Hamas do not officially speak to each other.
Mr. Morsi, who is under U.S. pressure, reportedly is pushing Hamas to come to terms with the Israelis.
Egyptian intelligence officers brought Hamas political chief Khaled Mashal and Islamic Jihad leader Ramadan Shallah to a joint meeting in an attempt to resolve their differences.